It's No Longer a Secret...Introducing Our New Handpainted Collections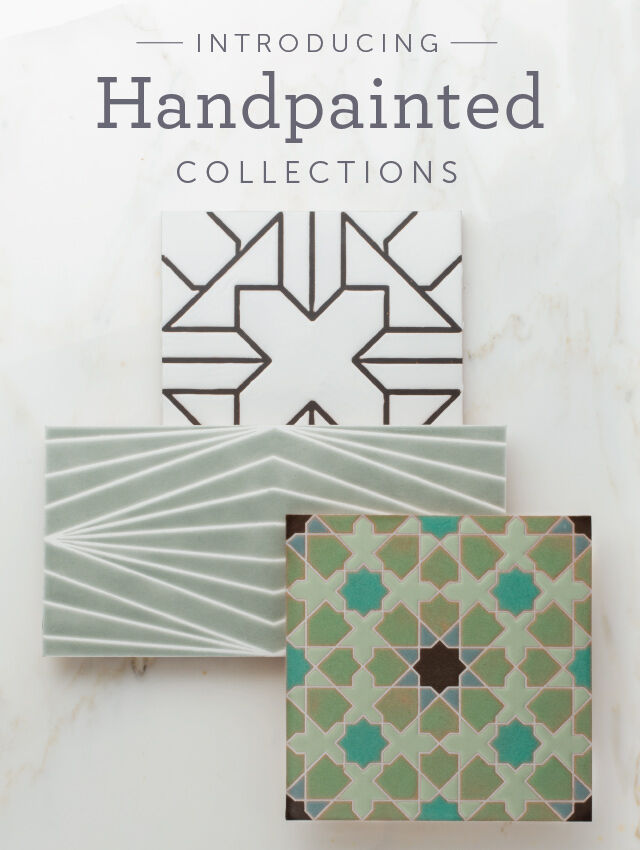 Patterns shown: Elephant Star, Diamond Contour, Kasbah Trellis
Inspired by the simple beauty of wall coverings and textiles, we are thrilled to announce the launch of our new Handpainted collections, Contemporary, Moroccan, Mediterranean and Classic Cuerda Seca, created in partnership with the talented designer, Susanne Redfield. An artful blend of authentic craftsmanship and unique appeal, our new Handpainted Collections offer bold, contemporary patterns and fresh new colorways.
Handmade in California on our recycled clay body these new collections feature lead-free glazes, a rectified edge, and are available in 6x6, 8x8 and 6x12 sizes.
Contemporary
The Contemporary Collection is both on trend and timeless. Ranging from soft, organic lines to bold and energetic patterns, our contemporary designs will add graphic appeal to any space. The collection is built on a core color palette of clean and classic subdued neutral tones, including a variety of subtle grays and charcoals designed for creating contemporary spaces with visual interest and texture.
Patterns shown: Diamond Contour and Diamond Lattice
Patterns shown: Isosceles, Palmera, Starburst
Moroccan
Our Moroccan Collection features designs perfectly balanced between classic Persian patterns and effortlessly chic present-day designs. Dramatic and vibrant, these bold patterns inject graphic appeal with old world charm, making them ideal for a flooring statements or inspiring wall installations. From soft neutrals and cool grays to vibrant brights these lively patterns will energize any space.
Patterns shown: Interlaced Birds and Kabuki Sphere
Patterns shown: Persian Star, Old Cairo and Sintra
Mediterranean
Inspired by an old-world aesthetic, the Mediterranean Collection boasts artisinal craftsmanship and careful attention to detail. Mimicking our favorite hues found in nature, this colorful collection ranges from boldly saturated blues, to warm terra cotta-inspired reds, and deep forest greens.
Patterns shown: Malta, San Carlos and Murietta
Patterns shown: Valencia, San Carlos, Tarragona
Classic Cuerda Seca
We've been handcrafting our Classic Cuerda Seca designs for 15 years. This timeless collection beautifully blends traditional floral designs with graphic appeal making them perfect for any present-day installation. These classic designs are available in a wide range of colors featuring everything from cool ocean blues and greens to vibrant yellows and earthy reds.
Patterns shown: Cordoba, Old California 3 and Braga
Patterns shown: Moorish Knot, Spanish Cross and San Sebastian
Ready to get creative with pattern? Shop Handpainted now. Need some help? Simply call, chat, or fill out our Design Assistance Form and one of our talented Design Consultants will get back to you shortly.