Introducing Fireclay Glass Tile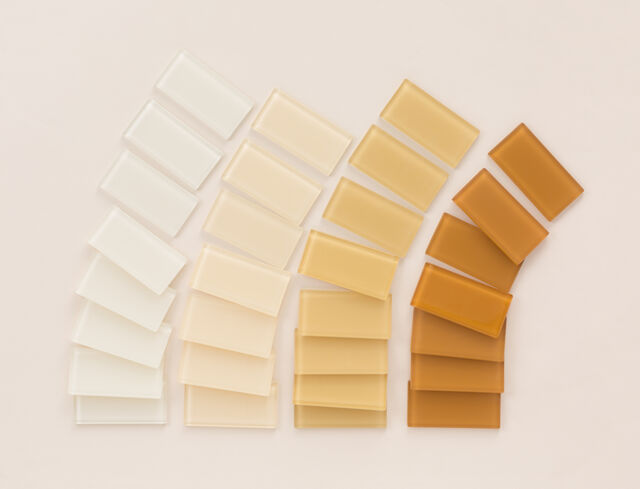 Introducing Fireclay Glass Tile!
Available in 24 exclusive Fireclay hand selected colors, our glass tile comes in gloss, matte, and slip resistant finishes.
Inspired by glass? Check out our Glass Inspiration Board on Pinterest.
A Natural Inspiration

With a palette inspired by the birds of North America, our Glass Tile offers a breathtaking world of color for every design aficionado.
Let our glass tile collection transport you to a bucolic setting filled with flora, fauna, and classic colors suitable for any style.
From shades of the desert to calm and watery hues, contrasting polished and matte finishes accentuate a thoughtful range of colors.
See the full color palette and order samples here.

Suitable for interior and exterior walls, floors, steam showers, pools, and spas, there's a color and size for every design enthusiast to love.


Mosaic sizes (1x1, 1x2, 2x2, 1x4, 2x4, 3x3) are $45 a square foot and come mesh mounted.
Installing in a wet space like a shower or a pool? No problem. Let your design consultant know and we'll change the mesh mount to face-tape for better adhesion.
Not set up with a Design Consultant yet? Click here; it's free!
Field tile sizes (2x6, 2x12, 3x6, 3x12, 4x4, 4x12), are $35 a square foot and ship as loose pieces.
Glass Tile Shown: Rosy Finch 4x4 in gloss and matte
Keep in mind that our glass tile is made by hand so it will not be modular in size and shape. The colors are low in variation, but can vary batch to batch. It's always best to order at least 15% overage/attic stock when purchasing to avoid having to add on more material later.
Glass Tile Shown: Pheasant, Carolina Wren, Rosy Finch, and Lark 2x4 in gloss and matte
Our glass tile is made to order and made by hand. Lead times to make are ~4-6 weeks.
Heirloom Quality Glass Handcrafted by the Experts
To find the highest quality handmade glass tile, we sought out the experts. Born into a family of creators, our friends and manufacturing partners Mike and Kim, know a lot about good design and even more about making high-quality glass tile.
Glass Tile shown: Falcon 2x12 in gloss and matte
With shared values in sustainable manufacturing practices, fair and equal pay, along with excellent employee benefits you can be sure that each tile is carefully handcrafted with the same handmade Fireclay standards you've come to expect.

Meet the Makers
Based in Vancouver, BC, Mike and Kim's family business has been making handcrafted glass tile since 1977.
Like us, they care about the Earth. All water at their Vancouver factory (with the exception of the kitchen sink) is grey water that's been captured during the rainy season. Water is collected, filtered, and put right back to work.
In addition to glass tile, Mike and Kim also make a variety of other products out of their glass waste. Scrap glass is saved and later melted into custom one-of-a-kind art pieces, bowls, tiles, etc. Additionally, they send any of their clear glass scrap material to a company that makes reflective paint for roads.
All of Mike and Kim's employees are paid a fair living wage and many employees have been with them for over 20 years.

Kim's favorite part about glass manufacturing? "The journey of invention."
Interested in Fireclay Glass Tile? Click here to start sampling! Need help on your own project? Simply call, chat or fill out our Design Assistance Form and one of our talented Design Consultants will get back to you shortly.