Installation Stories: Picket to Perfection
Images by Chase Daniel, Courtesy of Matt Tsang.
We've been wanting to see our Pickets installed in this braided pattern for what seems like a long time and this kitchen made it well worth the wait. Austin-based designer and owner of M.Walter Design, Matt Tsang, has really outdone himself with this kitchen transformation (seriously, take a look at the before photos). Keep reading to learn more about this talented designer and see more of this enviable space:
First off, tell us a bit about yourself:
This is Matt:
Image: Philip Edsel
My style can be described as...
I find that my style is always evolving and at any given point is a reflection of the different elements that have inspired me up until that point in my life. My current style is a balance of industrial and modern. Clean lines and the warmth of natural elements often find itself into my designs. I desire to create spaces that have a period, universal appeal. What that means to me is a design that (1) may be innovative now, (2) will hold its draw, and (3) will one day return with resounding appeal.
My design philosophy is…
True design embodies purpose and beauty, which lends itself to incredible spaces.
I got my start…
I remember always being fascinated by colors and beautifully crafted objects…glass blowing being one of those trades that to this day still intrigue the inner child in me. As a designer, I've come to stretch those creative muscles in a multitude of ways, through travel, cooking, entertaining and ultimately interiors. I remember while in school I found myself constantly rearranging my apartment and feeling like it could always be better for the sake of others and how they experience the space. It's hard to pinpoint exactly where it all began, but I think that's a good place to start.
Image: Matt Tsang
I find inspiration in…
I love to be inspired by interesting people that I meet, unique cultures, and the nuanced visual stimuli of my day-to-days wherever I may be. I also use architectural periods and different eras of art history as a place to draw from for inspiration.
Image: Matt Tsang
My best design advice would be…
Be confident in your design and let the space be a reflection of your true self. Don't live for the appeal of others and be okay with ruffling feathers to get there.
Now, on to the tile:
Can you tell me about the space? What did it look like before? What did you change?
This client project involved a complete overhaul of the kitchen and living areas. The kitchen had an awkwardly positioned peninsula next to an oversized breakfast nook. A pony wall next to the breakfast nook separated that area from the living room. The laundry/pantry room was located on the opposite side of the kitchen.
Here's the kitchen before:
We demoed the kitchen/laundry/pantry areas for a fresh start. Bringing in the wall shared by the kitchen and adjoining dining room, we were able to give more space to the dining area and better define the space allocated to the kitchen. Although we lost a bit of square footage for the kitchen, we were able to extend the kitchen island into the breakfast nook and run the kitchen cabinets along the back wall essentially doubling the size of the kitchen. All new floors, cabinets, countertops, appliances, paint, lighting, fireplace surround/mantel and backsplash were installed.
This was the kitchen and living space before:
What type of look or aesthetic were you going for?
With lower eight-foot ceilings throughout the space and an open concept kitchen living, it was important to establish a sense of height. In addition to strengthening the vertical presence, I wanted to bring in natural, organic elements to soften the space. If I had to describe the aesthetic, I would say natural-modern.
Below is the kitchen/living space after...can you say wow?!
How did you come up with your color scheme and design?
To help create an illusion of height, I chose white shaker cabinets and subtle light gray walls. A darker gray island and white countertops were selected to help ground the kitchen. I introduced brass hex knobs to balance the stainless steel appliances and bring the warmth and depth of a mixed metal concept. Natural linen flush-mount drum pendants with a touch of brass tied in nicely with the brass knobs. The kitchen backsplash was my pièce de résistance and I selected the picket tile in sea glass.
Tile Shown: Pickets in Sea Glass.
NOTE: You might notice that the color of the Sea Glass Pickets differs from image on our website. This is likely due to lighting. We talk about it on this blog, but it's important to note how much both artificial and natural light can affect the color of your tile, paint color...etc.
Why did you choose this color and shape?
I chose the picket tile because of the size and shape. The picket tile was large enough to scale proportionally to the long run of backsplash and the shape was unique and eye-catching. I set the tiles in a braided pattern, which brought the necessary movement and height for the kitchen. The soft, soothing tones of the sea glass color balanced perfectly with the braided pattern and evoked an image that reads more like falling leaves.
How did the installation process go? Did you face any challenges?
Because each tile is handmade and not perfectly symmetrical, the installation was more challenging. As each tile was set, we had to step back and ensure even spacing around all the tiles. Although the install was tricky, the final product was perfection. The natural edges of the tile brought charm and an organic beauty into the kitchen.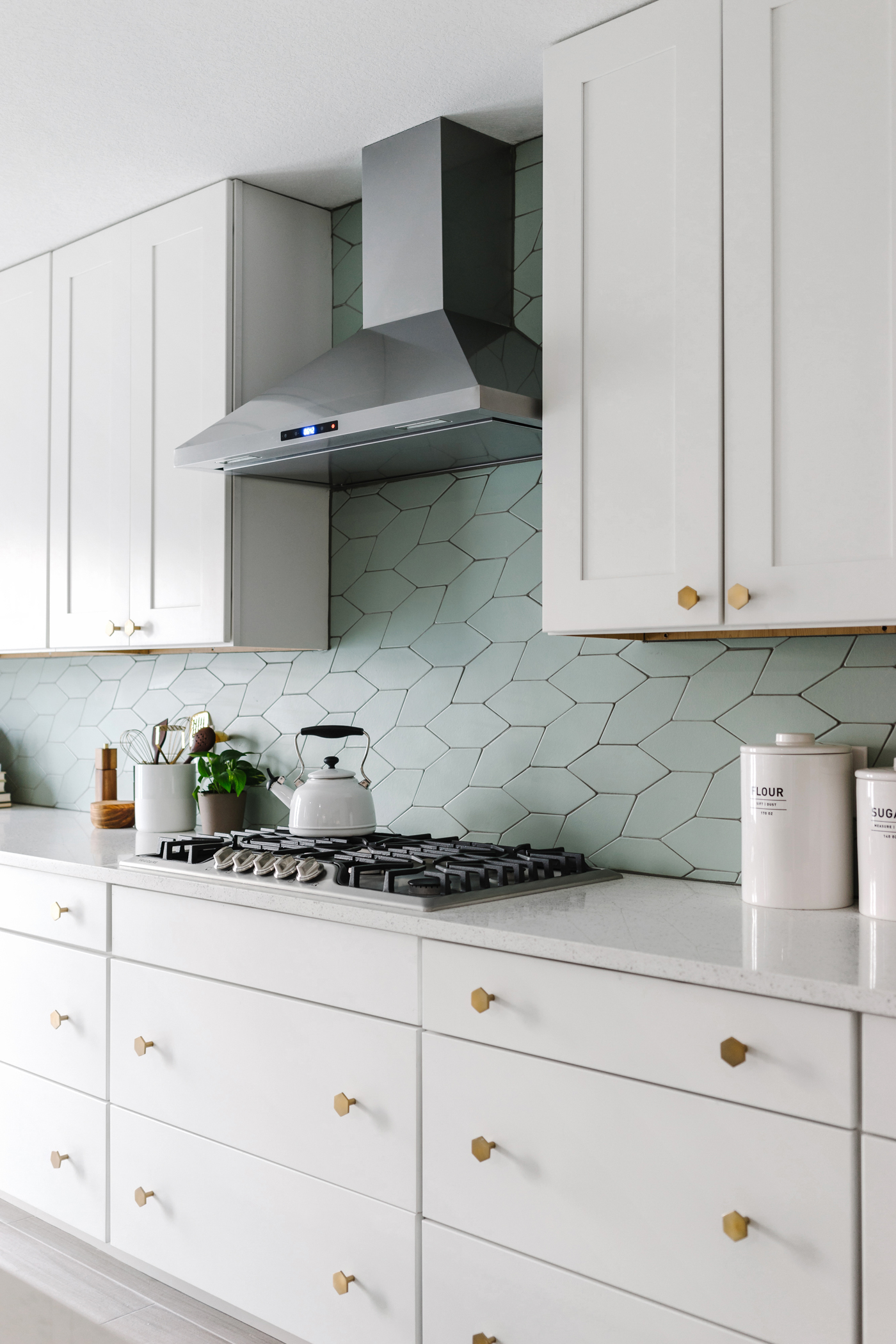 How did you hear about Fireclay? Had you worked with us before?
This is my first time working with Fireclay. I found Fireclay through media press and the website.
Are there any other of our products that you are really wanting to use?
I would love to work with either the diamond or hexite tiles in dramatic colors to play off a geometric pattern.
Tile Shown: Small Diamonds in Moonstone & Fluorite.
Tile Shown: Hexite in Antique.
Have you fallen in love with Pickets in Sea Glass? Order color samples online now. Need some help? Simply call, chat or fill out our Design Assistance Form and one of our talented Design Consultants will get back to you shortly.
Shop the Story