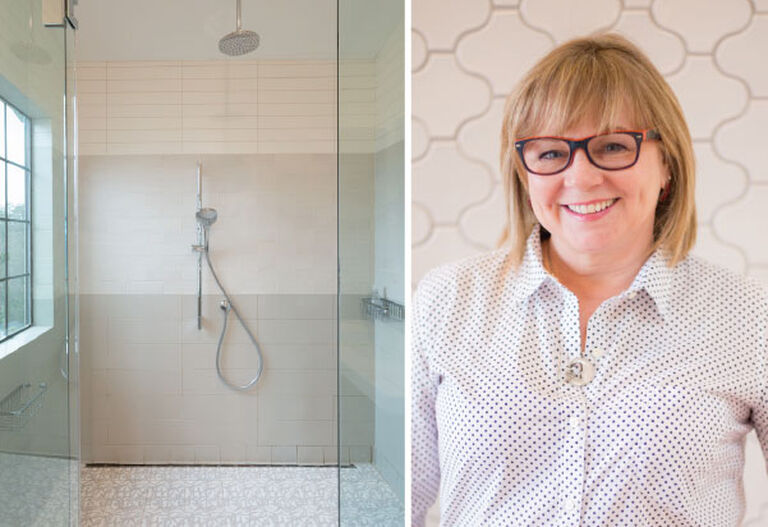 If you've ever visited our San Francisco Showroom, it's likely that you were greeted by our much-loved Wendy Ruffier. A showroom designer at Fireclay Tile for nearly 4 years (and with nearly a decade of tile experience prior), her bathroom renovation clearly illustrates her thoughtful eye for design. Wendy's neutrally toned space, which she describes as, "calming, yet joyful," also really shows off our tile. With three different sizes of our larger format collection,EDGE, along with a custom handpainted pattern that Wendy created with our COLOR-IT Tool, this masterbath is teeming with beautiful details.
*Please note that we have archived EDGE sizes and they no longer available on our website. However, if you're interested in larger format sizes, please contact us for more information.
Keep scrolling for images of this gorgeous masterbath, along with sage design advice from this talented designer:

How would you describe your style?
Casual eclectic.

Having all the options literally at your fingertips, would you say it was more or less difficult to choose tile for yourself?
I did have a year to think about my design. Once we introduced our handpainted Sakura Collection everything fell into place. Considering the last time I remodeled any of the bathrooms in our home I was in my 20's, my tastes have matured. So this opportunity was thrilling for me. Not only did we get a new bath, we got a large one at that. I wanted our bathroom to feel calming yet joyful. So selecting a handpainted tile with a design that has movement was a must. I love the subtle variation and neutral colors our EDGE collection offers. We have tall ceilings so by using three slightly different shades and three sizes the room feels balanced. Our tile is so beautiful, it's hard to go wrong.
Three of our EDGE colors run from floor to ceiling:
Tile Shown: 6x18s in Dolomite, 3x9s in Halite and 3x18s in Calcite.
Tile Shown: Handpainted Dragonflies cover the bathroom and shower floor.
Can you tell me about your home; how long have you lived here? What made you decide to remodel the bathroom?
We have been in our home for 33 years. We have slowly over that time changed the surfaces of everything but no actual change of the structure. This bathroom was an addition we added to our master suite. The bathroom we used for the last 33 years was only 5.5" by 7.' Our new bath is much more spacious.
Here's the before:
The "After" shows how big a difference the addition (and the tile) made:
Tile Shown: Note the use of a Cove Base here where the wall tile meets with the floor. (Heads up: this trim piece makes for easier cleaning)!

What aesthetic were you going for?
I wanted our bathroom to feel calming yet joyful.
Tile Shown: The 3 neutral toned EDGE colors Wendy chose create a calming effect, when installed in this gradient style.

How did you come up with your color scheme and design?
That was easy; I knew we would have lots of natural light so I wanted to use matte glazes. I also wanted to keep my grout lines to a minimum. Bingo EDGE.
Tile Shown: Close up of the 6x18s in Dolomite and 3x9s in Halite (also, Wendy has quite the green thumb, as well as a penchant for orchids).

What were the other tile colors and handpainted patterns you almost went with?
I truly did not consider anything other than Dragonflies; it was love at first sight. I did enjoy trying to figure out the color palette for the dragonflies themselves. I have the background matte and the dragonflies in gloss so that when the light shines on them the seem to dance. As for the pattern on the walls, I tried several renditions (all horizontal) to keep the room from being top heavy.
(A foot selfie was a must with a floor like this):

Tile Shown: Handpainted Dragonflies; this custom color palette was created using our COLOR-IT Tool.
What is your favorite part about the bathroom?
I'm a tile enthusiast, so without a doubt, the tile and then the view.

(The shower window offers a view of the tree line and you can see the ocean from the window in the main bathroom area).
Tile Shown: To trim the window, Wendy opted to miter the tile for a clean, finished look.

How did your installation process go? Did you have any challenges?
Shame on me; as long as I have been in this business I still had many pitfalls. No matter what, you must have a dream team of professionals who take pride in their work. The old adage measure twice cut once is no joke. Stick to your guns, don't compromise if it is important to you. If you have to stop and fix something, now is the time to do it. We love our bathroom and all the choices we made.
What is your favorite design advice to give your clients?
If you're going to live in your home for five years or more then don't hold back, do exactly what you want. Most people design with the mind set they will be selling and need to keep it neutral. It is my experience in the bay area homes turn over in five years or less. The first thing people change are the kitchen and bathrooms. Often times it just because they don't like the color or design.
Are you loving the colors Wendy chose for her renovation? Order color samples online now. Need some help? Simply call, chat, or fill out our Design Assistance Form and one of our talented Design Consultants will get back to you shortly.