Installation Stories: Mid-Century Modern Love
By Kali
All Images: Robert Maurer
This labor of love turned out to be a mid-century masterpiece, thanks to Robert Maurer's expert eye for color and interior design. With a lot of hard work, attention to detail and our 2x8 tiles in Fluorite, this classic kitchen underwent quite the transformation. We're sharing more about this home and of course, the tile on the blog today.
Hi Robert, can you tell me a little bit about yourself and what you do?
I am Robert Maurer, a graphic and interior designer originally from Canal Fulton, Ohio. I moved to Sacramento, CA in 2004 in search of greater opportunities, and it's worked out brilliantly. I am the co-founder and Creative Director of Commuter Industries, Inc. -- a design firm based in Citrus Heights, CA and Santa Monica, CA. We design entire worlds for brands — from logo designs to comprehensive identity systems, including printed materials, packaging, illustrations, and web design — to designing engaging, unique, and memorable physical environments for events and retail locations. In addition to my passion for graphic design, I also enjoy vintage furniture restoration, cooking, baking and cocktail-making/drinking.
How about the home you are renovating? Is there a story behind the home that you'd like to share?
The search for my dream home was rigid and very specific, but after 2.5 years of touring, bidding, and stressing out, I was lucky enough to score the perfect place. I own, and am currently renovating my Streng Bros. Home designed by iconic architect, Carter Sparks. The Streng brothers built nearly 3,000 mid-century modern style homes in the greater Sacramento area from the late '50s into the early '80s. Mine is a Transitional model built in 1974 in the Eastridge neighborhood of Citrus Heights, CA. These homes were designed specifically for Central Valley living with features such as clerestory windows, aggregate flooring and patios, and plenty of sliding glass doors. The classic post and beam construction offers timeless style in an open-concept layout that is practical, private, and just plain cool to look at. I have always been drawn to mid-mod architecture, so acquiring a Streng Home was a natural path in my home pursuit. To track my renovation journey, I also write a blog
Midcentury Maurer that showcases my house projects along with other fun design and entertaining ideas.

In the kitchen, what did you change?

Oh my. Pretty much everything! Way back in 1974, this kitchen was equipped with a sea of beautiful birch cabinetry. When I was on the search for my dream home, original cabinets were at the top of my criteria. However, finding a Streng home with an untouched kitchen proved to be quite the feat, but I finally found one that I felt I could transform back to its original beauty. The cabinets had been painted white, inside and out. I spent many days and nights stripping, sanding, staining and oiling these cabinets back to their original beauty. I used a medium walnut stain, and replaced the chunky, brushed aluminum hardware with modern, matte black bars and hinges.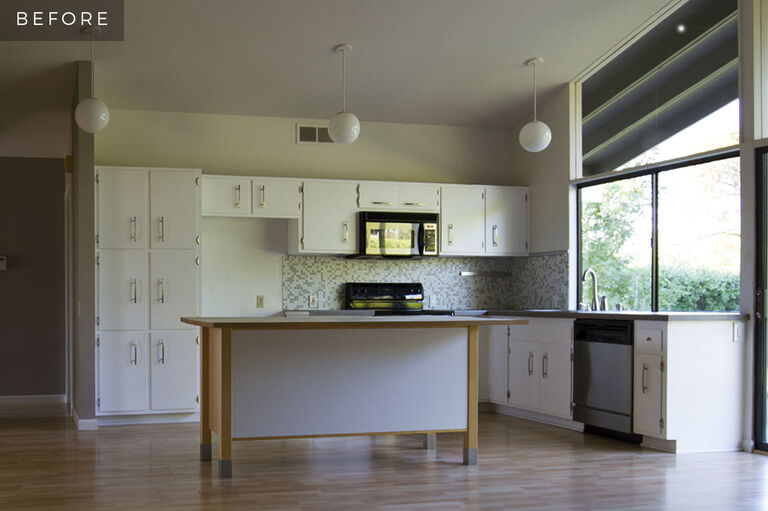 The floors in the entire house were beech wood laminate. Beneath that were 2 layers of linoleum — one from the '90s and one from the '70s. The effort involved in removing this collection of flooring was extreme, and required many hours of labor. Once those materials were removed, I had the original concrete slab ground, stained and polished in a warm charcoal gray. Bits of beautiful aggregate can be seen throughout.The countertops were gray, ceramic 12x12 floor tiles with light gray grout. I wanted a more sleek, modern look that harbored less bacteria, and was easy to maintain. I also swapped out a brushed aluminum faucet and stainless steel sink for matte black fixtures and a granite composite undermount sink. The island was also given a refresh with a new paint scheme and a walnut butcher block countertop.
I also replaced the original globe light fixtures as they were caked with years of paint and vintage dinge. The new fixtures feature brass hardware, black fabric-wrapped cords and milk glass globes. I upgraded the range and microwave from a base level stainless steel option to premium KitchenAid black stainless appliances. They are magical, and I'm looking forward to getting the matching fridge and dishwasher soon.
The backsplash area was a bit of a nightmare. Sheets of glass mosaic tile had been directly adhered to the drywall, so upon chiseling the tiles away, the walls suffered some pretty serious damage. All of these areas had to be repaired or replaced before I could proceed with my Fireclay tile project.
What look were you going for?
Maintaining the mid-century modern aesthetic of my home was very important in my remodel. I wanted my tile to consist of simple lines and shapes that complimented the surrounding architectural elements.
How did you come up with your color scheme/design?
I drew a lot of inspiration from many places, including Fireclay Tile, Atomic Ranch Magazine, and MCM home tours I attended in Sacramento, the Bay Area and Palm Springs. I have always gravitated toward turquoise tones, which also happens to be a popular color in mid-century design. I also opted to take the tile all the way to the ceiling instead of covering only the backsplash area. This extended use of tile creates one cohesive wow moment with bold style and impact that truly defines the large, open space.

What made you choose Fluorite? Were there any other contenders?

When I first set out to tackle the tile project, I was certain I wanted something in the olive green family. As I spent hours researching my options, it quickly became apparent to me that I had to have a hand-glazed ceramic tile. I really appreciate the beautiful and subtle variations in the coloring, which give the finished wall a unique texture, depth, and authenticity that you can only get from something handcrafted. At the time, I didn't know about Fireclay, and was pursuing a hand-glazed olive colored tile that was out of production at another company. With my project on hold, I decided to paint the wall and existing tile in the same olive green color to make sure I was going to love the color. After a couple of weeks, the olive was not jiving with me, and was actually bringing me down. The color felt heavy, muddy, and it blended too much with the cabinetry.
I then discovered Fireclay through a friend's recommendation, and ordered tile samples online. I had set out with the intent of using Boundary Waters, but thought it would be best to order a handful of samples in the blue/green family for more options.
When I saw Fluorite in-person next to my newly restored cabinetry, I fell in love immediately. The vibrant turquoise color is the perfect contrast to the warm nutmeg tones of the wood, which offers a vibrant pop of vintage-inspired color to the space.
How about the 2x8 in a straight set pattern?

Adjacent to the kitchen is the iconic Streng fireplace, which was featured in most of their home plans. It is constructed of beautiful 4x12 bricks in a straight set pattern, so I chose the 2x8 to mimic this dynamic architectural feature and tie the two spaces together.
How did the installation go? Did you face any challenges?
This was my first time working with ceramic tile, so I was presented with a few challenges. Though the size of tile is 2x8, I discovered that each tile is unique and can vary by small fractions. Slightly larger tiles may fit better next to a smaller tile and vice versa, so I laid out a large grid of tiles on the island to help map out color and size variance. Placing 50 sq. ft. of tile took the better part of 2 days, but by the end, I felt that I could take on another project with even greater confidence.
Lastly, are there any other of our colors or shapes you hope to use in future projects?
When it comes time for me to tackle the master bath, I am considering a gray Fireclay Tile for the shower and backsplash areas. Rainy Day, Iron Ore and Carbon are current contenders! I think a 3x12 would work nicely in the space, but I may also experiment with a larger 6x12 format.
Tile Shown: 3x12 tiles in Rainy Day
Inspired by this project? Order color samples online now. Need some help? Simply call, chat or fill out our Design Assistance Form and one of our talented Design Consultants will get back to you shortly.

Shop the Story