Installation Stories: An Industrial, Farm-Style Kitchen Remodel
With a complete kitchen remodel in the works, Kelly and her husband were in search of the perfect backsplash tile to fit their urban farming lifestyle. A few Tile samples later, our color Persimmon was chosen as the winner. Paired with a rustic wood wall and farm-inspired cabinetry, this warm orange hue helped the couple create an inviting space perfect for cooking up their delicious farm fresh meals.
We took a minute to chat with Kelly about her design, her inspiration and her Fireclay experience.
Hi Kelly! First of all how did you hear about Fireclay Tile?
Kelly – I found Fireclay online by searching "eco-friendly tile". I LOVED the effectiveness of the website, it was easy to use and really allowed me to visualize how the tile would look in my new kitchen.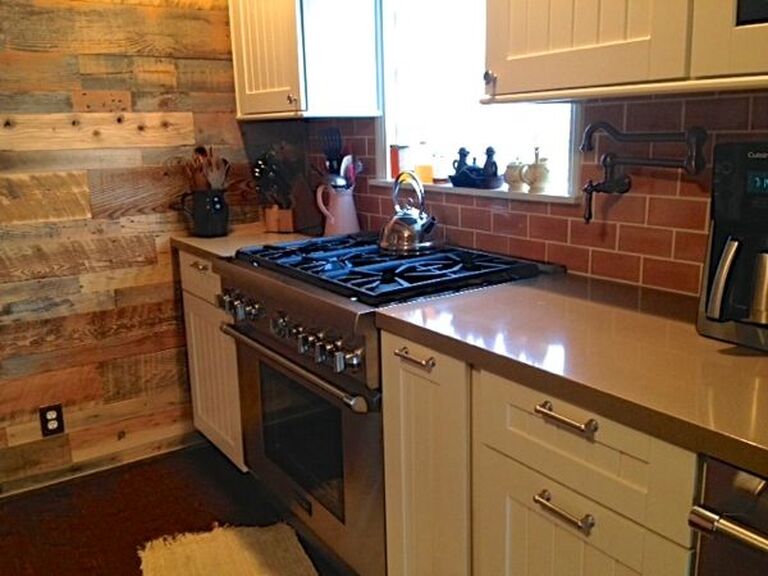 What did your kitchen look like before the remodel? What did you change?
Kelly – Our new kitchen has been a dream of my husband and I for some time. We are urban farmers who grow our own fruits and vegetables, fresh eggs and keep honeybee hives. We wanted the kitchen to match our 1/2 acre farm and the cooking we do. We changed everything, a complete re-do, the cabinets, counters, appliances, tile etc...It was ranch style before but very old and run down.
What style or look were you trying to achieve?
Kelly – We were going for a farm-style kitchen with an industrial vintage flare.
What inspired the color scheme and design?
Kelly – We liked the shape of the 3x6 tile because it looked like a classic brick wall, and the color matched a persimmon colored painted wall.
Did you work with a tile installer and/or designer?
Kelly – We had a contractor who did a great job and my husband designed the floor plan while we both designed everything else.
Love this look? Shop Persimmon now. Need some help? Simply fill out our Design Assistance Form and one of our talented Design Consultants will get back to you shortly.