Installation Stories: House Beautiful Kitchen of the Year 2017
Images: House Beautiful
In the 10th annual House Beautiful Kitchen of the Year, our Glazed Thin Brick in Meteorite takes the stage with Designer Jon De La Cruz's bold take on the offset pattern. This year's kitchen was a part of San Francisco's Decorators Showcase house and Jon took inspiration from "the cloudy gray marine layer aka Karl the fog," as well as, "the classic old fashioned black and white kitchen.
Before we talk about the kitchen, here's a bit about Jon:
My style can be described as...This is a hard one because I find myself drawn to things all over the map in terms of style, but lets call it 'California' style - a little bit eclectic, a little bit modern, a little bit traditional, and always about quality and context.
My design philosophy is...Design with integrity - to yourself, to the project, the client, the context, the materials
I got my start...Answering phones for a commercial interior design firm in 1998 while finishing up art school and waiting tables at a very fancy restaurant in downtown SF.
I find inspiration in...Travel.
I can't live without...Travel.
My best design advice would be...Hahaha Travel. Listen. Look. Taste. Experience everything you possible can outside of your normal circle and eat and drink and talk and learn and absorb as many cultures different than your own. Gain a wider global perspective. Expanding your point of view helps enrich your projects and layer your style.
I love tile because...Tile is global - every style, every cultural handicraft reference throughout history has a form of tile so in its very nature the expression of tile is limitless. At once basic and complex, traditional yet modern.
Now, on to the Kitchen:
Can you tell me about this year's Kitchen of the Year? Is there a story behind the house you'd like to share?
Historic house, huge family needed a huge kitchen. They all cook (and clean) together so the house needed to be at once elegant and functional and durable.
How did you come up with your overall color scheme and design?
Salt and pepper. The cloudy gray marine layer aka Karl the fog. The classic old fashioned black and white kitchen.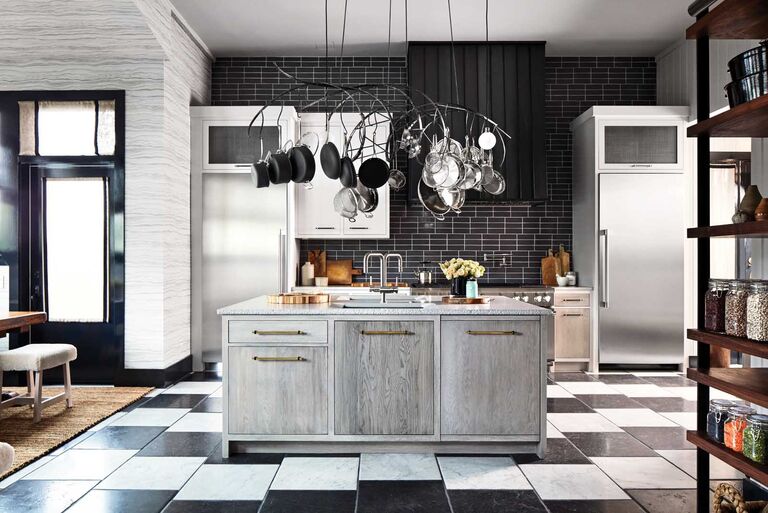 What were your main goals for the space?
The kitchen is the new living room, the goal was to create a space for a family of ten to cook clean and eat together with enough space for everyone to also be together at the same time.
In terms of tile, what sort of look were you going?
I wanted the tile to have an exterior feel, with a touch of lustre. The glazed brick was perfect because it accomplished both elegantly.
How did you come up with the unique layout of our Glazed Thin Brick?
I studied a ton of different patterns, need something that helped balance the assymetry of the kitchen and also exalted the tall ceiling heights.
What made you choose the color Meteorite?
The deep color and touch of metallic lustre was perfect counterpoint to the black and white scheme.
How did the installation process go? Did you face any challenges?
No problems, the installation was so successful that we decided to add the brick to the patio floor.
Lastly, which of our colors/shapes/patterns are you hoping to use on any future projects?
Two current projects: We are using the Snow white brick for a historic home in Piedmont as the fireplace flue, and for a commisary at a large recording studio in SF in a historic brick and timber building along the Embarcadero.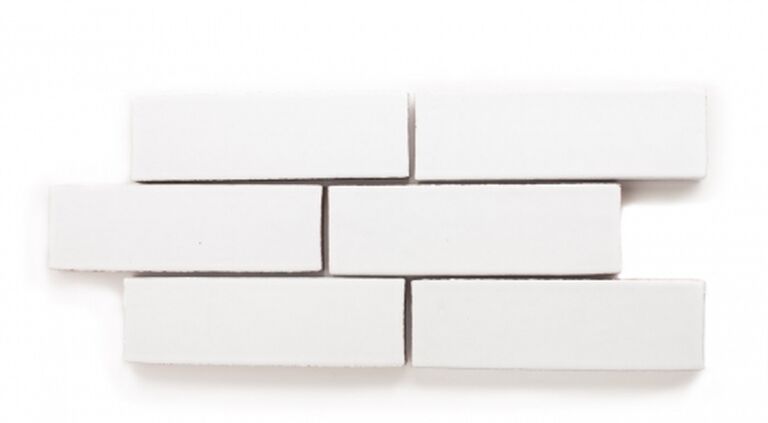 Inspired by this kitchen? Order color samples online now. Need some help? Simply call, chat or fill out our Design Assistance Form and one of our talented Design Consultants will get back to you shortly.
Shop the Story