Installation Stories: A Refreshing Green Kitchen Renovation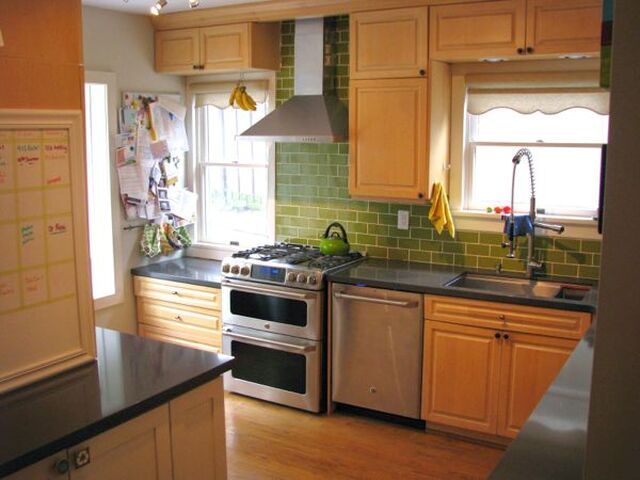 With a dated kitchen in need of an updated, our customer Elle decided it was time to give the space a makeover. Elle chose finishes and tile that would stay true to the original 1920's features of her home, while adding a little modern appeal. She chose a classic 3 x 6 subway style for her Limon green tile backsplash. We took a minute to chat with Elle about her kitchen remodel, and her Fireclay Tile experience.
Hi Elle! First of all how did you hear about Fireclay Tile?
Elle – I found Fireclay through google. We like to support smaller companies, especially ones with an environmental focus. I worked with your design consultant, Lauren, and I loved that I got such personalized attention.
What did your kitchen look like before the remodel?
Elle – The kitchen had nice cabinets, but the rest of the kitchen was a little dated and not quite our style. We wanted to honor the era of our 1920's home, but bring in some modern elements and amenities. We also wanted a bit of color and thought the backsplash would be the perfect place for that. I loved that the subway tile was a bit of a tribute to the era of the house but in the bright, fun green we chose, it gave us a modern twist and just enough whimsy without going over the top.
What type of look were you going for?
Elle – I guess a mix of traditional and craftsman with a little bit of modern.
How did you come up with your color scheme and design?
Elle – We knew we were keeping the cabinets, so we wanted to choose design elements that would complement them. We also wanted stainless appliances, so grey countertops seemed like a great choice to go with the appliances but without looking too severe. I am constantly drawn to green as a color for home interior design. I love that it ties with the natural world, especially in a room with lots of wood, it seems to be a calming influence.
How did the installation process go? Did you face any challenges?
Elle – The installation went great. This was a DIY project for us. Although, I actually did nothing once the tile arrived. My husband gets credit for the install, and he said it was pretty straightforward.
Did you work with a designer?
Lauren from Fireclay gave some suggestions, but otherwise we did the kitchen design ourselves.
Love this look and interested in starting your own green kitchen remodel? Order free samples of Limon now. Need some help? Simply call, chat, or fill out our Design Assistance Form and one of our talented Design Consultants will get back to you shortly.