Installation Stories: A Historic Beauty Gets a Fireclay Update
Finished kitchen installation featuring our 3x6 Tile in Azurine
When it comes to tile installations we tend to agree with the saying, "two is better than one", which is why we're thrilled to share Alli's kitchen and bath remodel. But Alli and her family didn't just install tile, they took on the challenge of remodeling their entire 1900's home, and boy did they succeed! By honoring historic details and introducing current design details, this family was able to turn their historic beauty into a space suitable for their modern-day lifestyle. We took a minute to chat with Alli about the remodel and her Fireclay Tile experience!
Hi Alli! First of all how did you hear about Fireclay Tile?
Alli – I am a friend of your Head of Online, Rebecca Taylor, and she has been telling me about Fireclay tile for a long time. Through her, I was familiar with the product and had seen a lot of the beautiful photos on your website. Once we decided to remodel our house, I knew immediately that we would use Fireclay! In fact, at our very first meeting with Mosaic Architects (6 months before we even began the work), I told them, "Wherever we end up putting tile, it has to be Fireclay!"
The kitchen before the remodel
You took on a huge remodel! What did your home look like before all of the changes?
Alli – Our home was originally built in 1900 and is a landmarked house that is part of the Highland Lawn Historic District in Boulder, Colorado. The house was partially remodeled in 2002 and we purchased it in 2013–At that point it needed a major overhaul. Portions of the original house were in great disrepair, and the newer part of the house was not our style, nor did it flow well with the original sections.
The family found a newspaper from 1967 under the original floor boards
What improvements did you make?
Alli – The house had gorgeous bones, but it was dark and disjointed inside. There was a lot of woodwork, a lot of brown, and a lot of tiny rooms. Ultimately, we removed three interior walls to open up the entire first floor, and we exposed two walls of original brick that had previously been covered with drywall. We completely remodeled the kitchen and the master bathroom and put in all new hardwood floors upstairs and downstairs. We also installed all new interior doors, hardware, and light fixtures.
Our primary goal with the remodel was to open everything up and lighten it up. We wanted to blend the home's circa 1900's Victorian history with a more modern aesthetic and turn it into a fun, casual, and functional living space for our 2014 family.
Custom cabinetry was made for the kitchen remodel
What did you change in the kitchen?
Alli – The kitchen is brand new from top to bottom. The layout is more or less the same, but everything is new. New cabinets, new countertops, new appliances, a new banquette, new lighting, and new floors. And obviously new tile!
What inspired the color scheme and design?
Alli – In order to give the house a lighter, more open feel, we focused on a basic color palette of white and light gray with a few splashes of white oak for accent. We chose espresso-stained hardwood floors to provide a sleek contrast. We kept everything fairly neutral and relied on Fireclay Tile to add splashes of color in both the kitchen and the bathroom. We chose Azurine for our kitchen. The Azurine is bright and bold, and really makes the kitchen pop. The fact that each individual tile has natural variation gives the space so much depth and warmth.
Did you work with an Architect or Designer? What was that experience like?
Alli – We worked with Architect, Mark Ford and Designer, Claire Peterson of Mosaic Architects for this remodel. Their insight was indispensable. Due to the number of windows and the cabinet layout in our kitchen, there didn't initially seem to be any space to use tile. But Mark and Claire came up with the idea of floating white oak shelves with the Azurine Fireclay Tile behind it. It's functional and looks amazing–especially when they're lit up!
Did you work with a tile installer? Did the installation process go smoothly?
Alli – Kevin Morningstar and Myles Rockwell of Morningstar Homes managed our project and they brought a subcontractor in to do the tile installation. We had no issues and the finished product was everything we hoped it would be!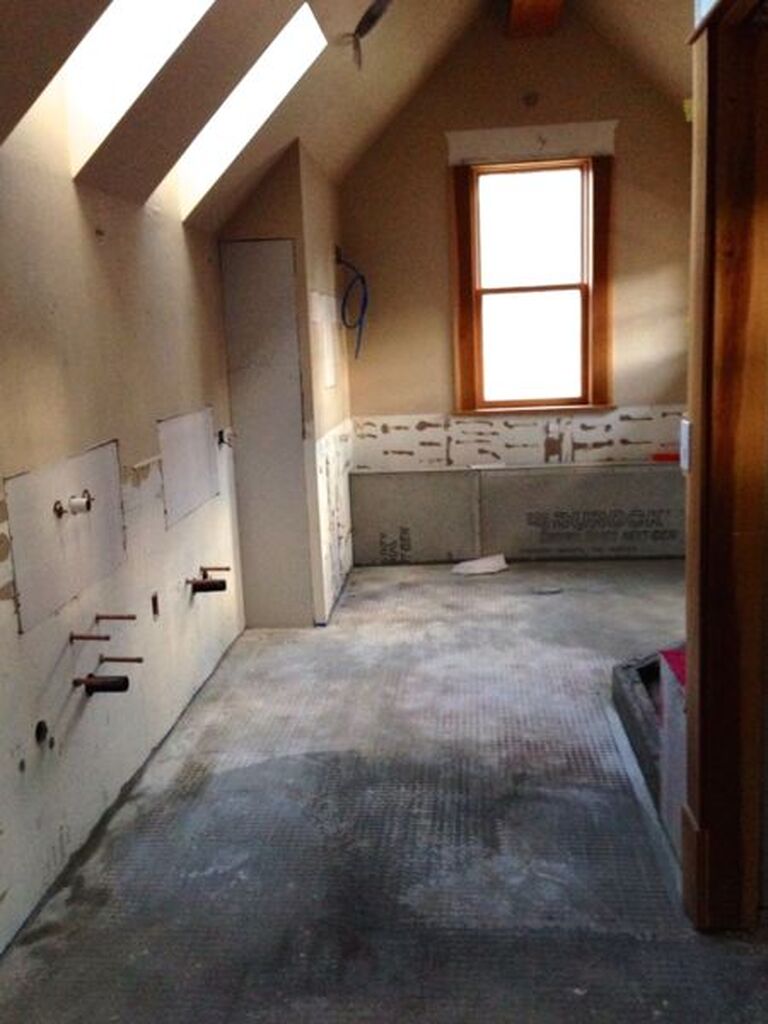 The master bathroom before the remodel
Can you tell us about the master bathroom remodel? What changes did you make?
Alli – The bathroom is also the same footprint, but everything is new. We put in a new vanity, new flooring, new lighting, new shelving, new shower tile and a bench, a new bathtub, and new fixtures.
Which Fireclay color did you use?
Alli – We used Hawaiian Blue for our master bathroom. The blue is soft and soothing and makes the bathroom feel so spa-like.
We love the shelving in the bathroom! What inspired the design?
Alli – We wanted a simple, low profile vanity because we love the look, but the downside is that you lose cabinet space for towels and toiletries. Claire designed the open shelving with the Fireclay Hawaiian Blue to give us additional storage. It adds color and ties in nicely with the Hawaiian Blue tile in the shower.
Love this look? Shop Azurine and Hawaiian Blue now. Need some help? Simply call, chat or fill out our Design Assistance Form and one of our talented Design Consultants will get back to you shortly.