Installation Stories: A Green Home Renovation with CRT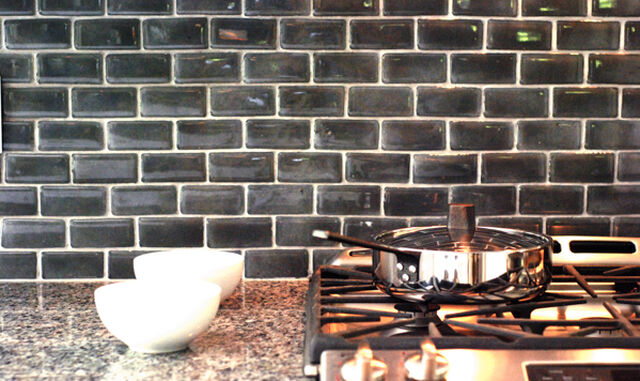 Glass color shown: CRT Phosphor; Photo: Rusty Walton
Please Note: CRT Temporarily Unavailable
Due to material shortages, CRT tile will be unavailable until further notice. We're working hard to restock our supply and will let you know as soon as it's back in action. In the meantime, we've got plenty more 100% recycled Glass tiles to choose from!
Ever since successfully funding a Kickstarter project to make tile out of recycled CRT glass, we have dreamed of all the possible ways this tech-inspired product could be installed, and this gorgeous first installation story didn't disappoint! Sustainable design maven, Lisa Vail and her design partner, Rusty Walton combined forces to renovate a gorgeous craftsman-style home while incorporating the latest in sustainability, including a CRT backsplash! Lisa was kind enough to write a guest blog for us, sharing her renovation story and Fireclay experience, enjoy!
Photo: Rusty Walton
Lisa – This house is an investment project for us, a "flip", and my designer friend, Rusty and I had a vision that it would be a showcase home for good green design. Rusty had previously worked under some of the design greats in New York before branching out on his own, and we decided to join forces–this is our first collaboration together.
I used to flip houses before the real estate downturn, and had to take a hiatus (like everybody else!) for the past 5 years from renovating. But during that time, my husband George and I built our modern, green dream home, and it was through that process, as well as writing for the green design blog Jetson Green, that exposed me to sustainable design and the many wonderful companies like Fireclay that are leading the design industry in this movement. I knew that when I got back into renovating again, I would do it in as responsible manner as possible. Rusty and I had so much fun working together, and are super proud of the way this once-dilapidated Craftsman has been brought back to life!
Photo: Rusty Walton
Of course, there are a lot of financial considerations that go into a renovation for investment purposes, and Rusty and I were constantly being challenged to find the best ways to spend our investors money wisely while still creating a healthy, eco-friendly product. One way was to use ROMA's mineral-based paint, which goes above and beyond no-VOC in creating exceptional indoor air quality. ROMA is based here in Atlanta, and the fellas that run the small company have become very good friends of mine. The price for their paint is comparable (if not cheaper) than the leading low-VOC acrylic paint and it is gorgeous to boot!
Photo: Rusty Walton
Water-efficient toilets and fixtures were a no-brainer, as well. We replaced the old windows with affordable wood, double-paned, low-e glass and added insulation into every wall we opened (which was most!), underneath the house and in the attic. So these were all good "bang-for-the-buck" decisions that made the house more energy-efficient and healthy inside.
Lisa used Phosphor in a 2x4 size for the backsplash; Photo: Rusty Walton
The Fireclay tile was our big splurge. I really wanted to show sustainability at its most attractive and inventive, and nothing says gorgeous green design better than Fireclay tile. I had been a fan since I was assigned to write about the company for Jetson Green. It was my dream to use it in a project.
Photo: Rusty Walton
The coolest thing is that the CRT Glass tile had just been launched the week we reached out to Fireclay to order tile. We love being on the cutting edge of design, and the story behind the tile has been a fantastic selling point for the house. Everyone who comes in is fascinated by the history of the tile, and are oohing and ahhing over the beauty of it before they even know about its origin!"
Photo: Rusty Walton
Thanks for sharing, Lisa!
Love this look? Shop CRT now. Need some help? SImply call, chat, or fill out our Design Assistance Form and one of our talented Design Consultants will get back to you shortly.