Installation Stories: A Cool and Contemporary Handpainted Kitchen
Handpainted pattern shown: Isosceles in the Cool Motif; Tile color shown: White Wash; Image: Jenny Nelson Photography
After launching our new Handpainted Collections this year we've been waiting patiently to see how our customers are use these brand new designs. Well guess what? The day has finally come! Our San Francisco-based customer Jamie got the chance to stop by our San Francisco showroom for some tile inspiration and after catching a glimpse of our own kitchen installation featuring Isosceles, she was hooked–it was tile love at first sight.
Hi Jamie! First of all how did you hear about Fireclay Tile?
Jamie – I found Fireclay through Pinterest. We had just purchased our home in San Francisco and I was researching tile inspiration online. I came across a "Mermaid Tile Bathroom" as it was being called online and I had to search for the maker of these whimsical tiles. It was a pleasant surprise to find Fireclay who makes a similar tile and find that the company was handmade, local and sustainable. We had the opportunity to re-tile our kitchen backsplash and we dropped into the San Francisco Showroom where Valeria helped us pick out colors and give advice on how to make our style choices. The showroom gives you a sense of how the patterns would fill a physical space, something the pictures online can't always capture.
Choosing samples at the San Francisco Showroom
What did your kitchen look like before the remodel?
Jamie – When we purchased the home in 2012 the bathroom and kitchen had been "updated" from the original 1940's build. Much to our dismay, the 80's particleboard kitchen cabinets, contact paper covered shelves and unevenly tiled counters were pretty sad. Unfortunately, we couldn't find many ways of keeping the existing features while making it functional and modern–We tried to paint the cabinets ourselves but it never worked out and with two small children, we could just never find the time. We finally broke down after a year of the kitchen being a "work In progress" and hired Ikea USA to come in and install new cabinets and countertops. All our appliances stayed the same with the exception of a new farmhouse sink and faucet. Everything was pretty standard...the one place I felt we could be creative was the tile!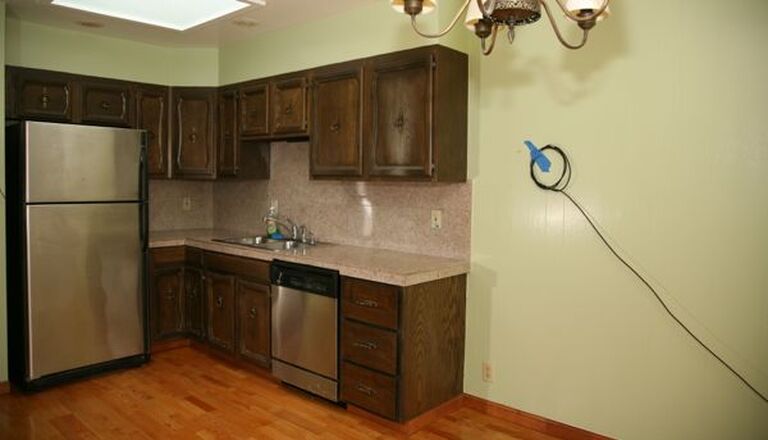 What type of look were you going for?
Jamie – We love mid-century style but also the look of country kitchens, with their whitewashed cabinets and warm butcher block counters. Despite the fact that our house was predominantly mid-century decor, we went with a more classic white cabinet theme. We cook a lot in our kitchen with our children and we keep a small backyard farm complete with chickens, so it made sense to have a country kitchen to go along with it.
Image: Jenny Nelson Photography
Why did you choose to use the Handpainted Isosceles pattern?
Jamie – Originally we wanted to do something with clean white subway tiles that you see in a lot of the modern kitchen designs, but with a twist. After seeing one of the featured kitchens on the Fireclay site, we thought we would opt for the Paseo shape. We calculated square footage and it came within our maximum budget for handmade tile, but once we entered the Fireclay showroom and saw the sample walls of the Contemporary Collection, all our ideas fell through and we started considering the idea of Handpainted tile.
My concern was the cost since the Handpainted tile were considerably more than the field tiles and I couldn't afford to do an entire Handpainted kitchen. Valeria, the showroom designer was kind enough to show us the Fireclay office kitchen, which had an accent panel of the Isosceles pattern, surrounded by field tile. It was unique and had a sophisticated mid-century feel to it. We quickly calculated our needs and it actually came under budget since your foundations collection of field tile is affordably priced and nicely balanced the higher cost of the Handpainted tile. We picked the Cool Motif, which registers more as a cool grayish color and paired it with the 3x6 subway field tile in White Wash.
Image: Jenny Nelson Photography
How did you come up with your color scheme and design?
Jamie – It was obvious for us to go with a white color scheme. Our home is small and we live in the fog belt. In order to bring as much light into the room and give it a sense of openness we opted to make all the cabinets and walls white. We have a large collection of artwork, and we felt the pure white background would allow us to change the wall decor over the years. We also wanted a tile that would reflect our style but not overpower the accessories on the walls and countertop.
Image: Jenny Nelson Photography
How did the installation process go? Did you face any challenges? Did you work with a tile installer?
Jamie – It is important to calculate overage accurately since all tiles are made to order. We thought we had been generous with our overage since we made the measurements and double-checked with both Valeria and our General Contractor at Phase2Builders. Unfortunately as with many projects, something got lost in translation and during demo the construction team took out our wall soffits, thus increasing our wall height. This was a good thing for cabinets, since we could now install taller cabinets for storage but it increased the height of the backsplash! Our tile was almost done being made and we had already come to the end of our construction and building phase. We also had used up our entire building budget.
We discussed the issue with our tile installer and showed him our original plans. We originally wanted to create and accent panel above the stove top and mirror it across the way above our sink, but we clearly didn't have enough Handpainted tile to do both panels. The installer suggested we box in the Isosceles with some white field tile above the sink, which meant cutting the Isosceles slightly to make it appear squarely set in the wall. At first we thought it might not look great since it didn't mirror the opposing wall, but we ended up loving it! The panel reminds us of a window, something most kitchens have above the sink.
Jamie – We opted for the recycled clay body made with locally sourced materials, since we wanted to support sustainable manufacturing as much as possible. The recycled tile has a warm undertone to it that hints at its former life as recycled clay and sets it apart from your generic home store white tiles. The handmade nature of the tile gives it a unique texture. The quality of the tile is noticeable and we truly feel like we have made an investment for the lifetime of our kitchen.
Image: Jenny Nelson Photography
Did you work with a designer on your project?
Jamie – No we didn't. We only used the in-house designer at Fireclay and we were incredibly happy with our results!
Love this look? Shop Isosceles now. Need some help? Simply call, chat or fill out our Design Assistance Form and one of our talented Design Consultants will get back to you shortly.