Handpainted being photographed in the studio
A huge part of the creative process at Fireclay Tile is the brilliant photography of our product–absolutely a cornerstone of our story. In-house photographer and graphic designer, Gina Benedetti is all about nuance and perfection when it comes to the photos we share with you. Gina was born & raised in San Jose, and graduated in 2011 from Rochester Institute of Technology with a degree in Visual Media. Her creative eye, vision, and attention to detail sets Fireclay Tile miles apart from the rest of the tile world. Photographing tile is truly a challenge, the reflective quality coupled with the almost flat surface can stump even practiced artists. I had a chance to talk to Gina about her work, and her inspiration.
In-house Photographer and Graphic Designer, Gina Benedetti
Have you always been interested in photography?
Just about! I got my first real camera in high school, but I always tried to get my hands on my dad's film cameras, camcorders, and early digital cameras growing up. I even set up a darkroom in my bathroom to develop my own prints. In college, my first 15 weeks were spent holed up in the dark rooms in running silver baths and hoping our color processor held out til the end of the quarter. But pretty soon digital became widespread and I would take my camera with me everywhere. Still do today, even if it's just a cell phone. Your best camera is always the one you have on you when you when you see the "moment".
Tile shown: Hexagon in Navy Blue
How did you make your way to Fireclay?
While in school I worked at our Printing Applications Laboratory. I wore a lot of hats, going from a bit of web design to email design to print testing and print production. Once I had graduated from Rochester Institute of Technology with my blended photography degree, I knew I didn't want to do just one thing. I worked as an in-house all around marketer for a small wholesaler, and loved being a part of a small company, one day doing photography, another graphic design, another setting up a new website. After moving back to California, I was hoping to find something even better. When Eric responded to my application, and told me a bit about the company, I realized I had hit the jackpot! Not only does Fireclay have a long history of benefitting the community, recycled materials and sustainable, local production, but they produce a beautiful product. I love being a part of that story.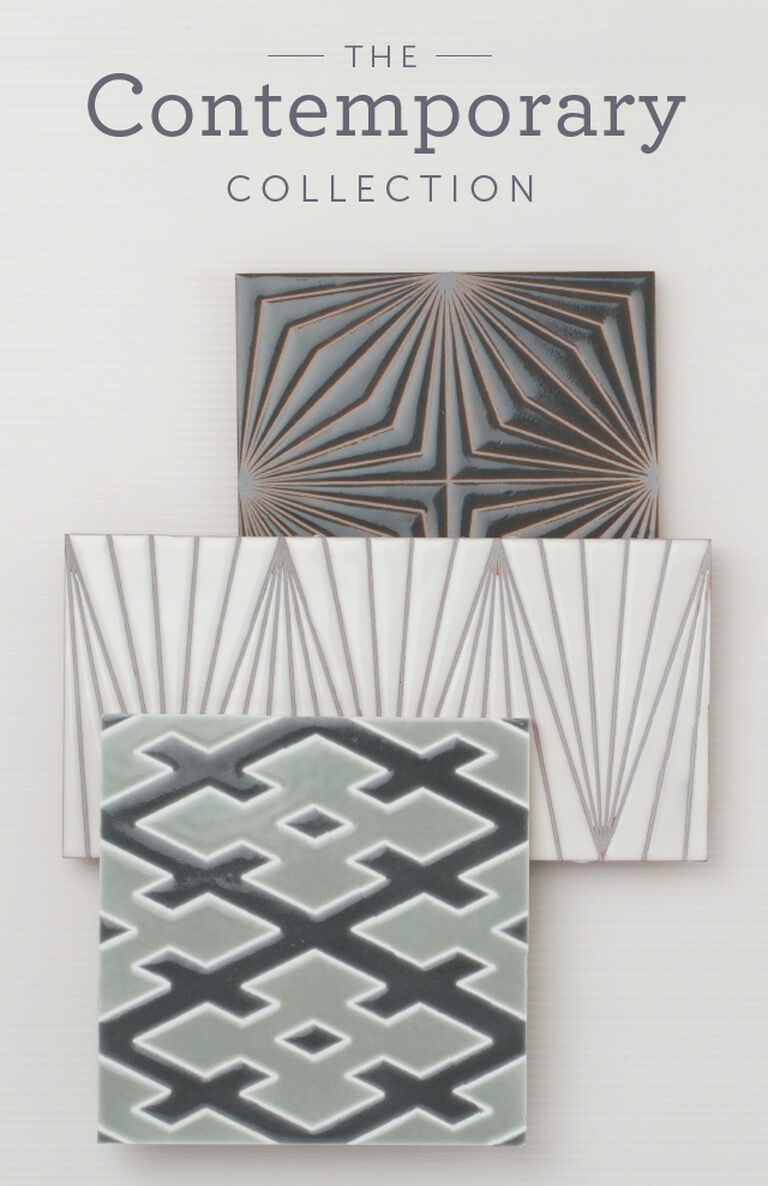 Handpainted patterns shown: Diamond Lattice, Isosceles, and Starburst
How do you get inspired when you start photographing a new project like the new Handpainted line?
We knew we wanted the Handpainted line to stand out from our single glaze tile. Handpainted takes a little more work, and a little more love to make, and we wanted to show that in the photographs. We thought shooting on the light grey backdrop would not only help the lovely white on white tiles stand out, but would also set Handpainted apart. And it did!
Handpainted pattern shown: Interlaced Birds
What elements are critical in a good shot of ceramic tile?
Some of our tile has a lovely crackle, especially in our white body glazes. It takes a lot of care to show that effectively. If you're not careful, it will "disappear" into the glaze and you can't see a true representation of the texture. With respect to Handpainted, we were very careful to highlight the dimensionality of the glazes. Our tile isn't flat! There's a bit of softness and roundness to the edges where the glaze meets the grey or white wax line. Finally, as the paint is all hand-applied, there can be lovely variation in the glaze that give the tile character.
Handpainted pattern shown: Isosceles
Do you have a favorite pattern in the new Handpainted series?
I love so many of them! The Contemporary Collection is beautiful, and would have to be my favorite. The Palmera White Motif is so lovely and muted, I'd be proud to showcase it in my home. I'm also in love with the Isosceles Cool Motif, which we have installed here in the Fireclay kitchen. But if I were designing my kitchen or bathroom, I'd have to enlist our always helpful Design Assistants as I would be quite hopeless on my own.
Handpainted pattern shown: Palmera
Love our Handpainted Photography? See more here. Need Some help choosing your favorite? Simply call, chat or fill out our Design Assistance Form and one of our talented Design Consultants will get back to you shortly.