Get Tropical with Chaine Femme
Designed by Austin-based Interior Designer, Kelly Laplante, one of our favorite patterns is Chaine Femme. Effortlessly chic, Chaine Femme's chainmail-inspired design features interlocking geometric silhouettes that are perfect for alternating contrasting shades. With warm weather approaching, we're feeling inspired by this couture-inspired pattern in all of our tropical hues. Keep reading for ideas and inspiration on how to add a little coastal couture to your space with Chaine Femme.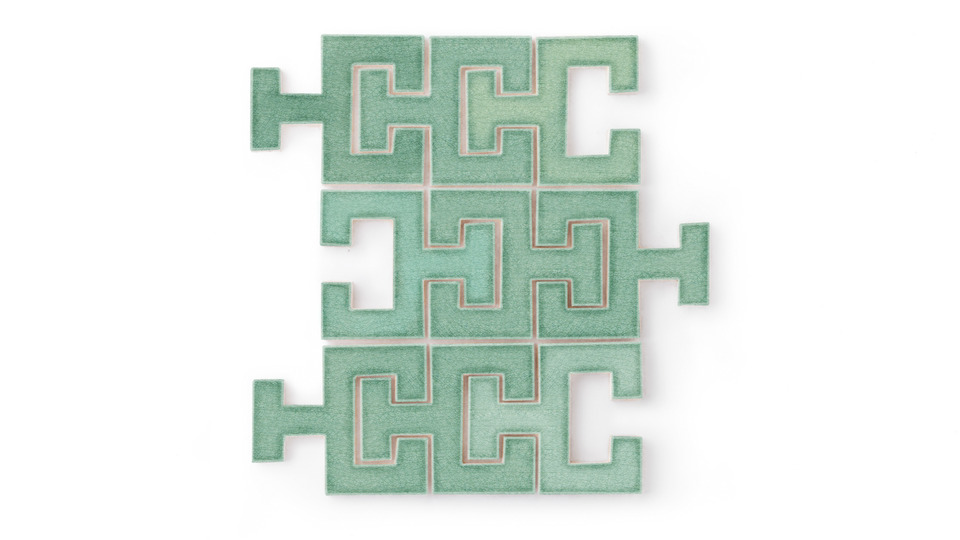 Tile shown: Chaine Femme in Sea Foam
Chaine Femme in Sea Foam offers just the right amount of tropical color without going over the top. The muted, yet fresh green hue is ideal for creating a colorful backsplash or shower wall.
For something a little more vibrant tryout Chaine Femme in our saturated green hue, Emerald. This crackle glaze features just the right amount of teal and will take your tile design from ordinary to vacation-worthy.
Tile shown: Chaine Femme in Emerald
To keep from overwhelming your space with tropical color, try lining only half of your bathroom wall with Chaine Femme. Keep the bottom half neutral with a traditional wainscoting detail in a neutral hue such as white.
Tile shown: Chaine Femme in Azurine
Pair this runway ready pattern with a variety of tropical hues for a truly coastal look. Blend shades of blue and green to achieve a look that looks layered, textured and unique.
Or for a more traditional inspired style use Chaine Femme in a single coastal hue and pair it with white finishes similar to the kitchen below.

Tile shown: Chaine Femme in Hawaiian Blue
Chaine Femme in Hawaiian Blue is reminiscent of cool blue skies and sunny beach weather.
For a tropical look with some edge choose Chaine Femme in a slightly darker blue hue such as Cerulean.
Tile shown: Chaine Femme in Cerulean
Cerulean pairs well with darker finishes and natural wood textures. Chaine Femme would add just the right amount of pattern and texture the bathroom below.


Love this look? Order Free Tile Samples now. Need some help? Simply call, chat, or fill out our Design Assistance Form now and one of our talented Design Consultants will get back to you shortly.