Fireclay Tile is 36 years young and time sure flies when you're having fun! We've come a long way since our humble beginnings, but over the years we've stuck to the mission that made us special to begin with: a commitment to quality, a respect for the traditions of handmade tile, and an endless pursuit to make tile in the most responsible way possible.

The Beginning

Fireclay was founded in 1986 by four friends including Paul Burns, the founder of Fireclay Tile, in San Jose, California. Paul grew up in a family of artists and his uncle was the owner of Stonelight Tile, a San Jose-based tile factory with roots going back to the 1920s.
Since he was a teenager, Paul had been learning the traditional methods of tile manufacturing and in his late 20s decided to jump into the tile game himself, carrying on a century-long legacy. He recruited 3 partners from Stonelight and Fireclay Tile was born.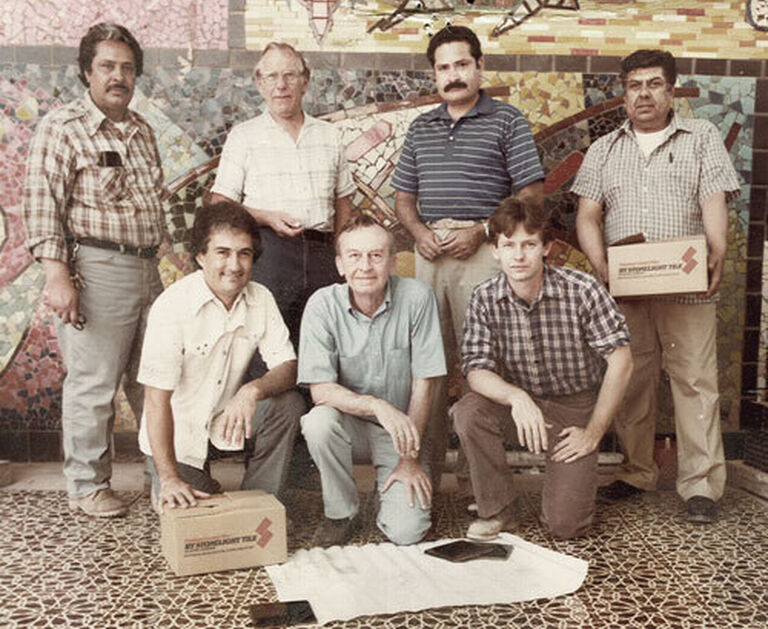 The First Factory
The small team began selling third-party tile and firing their own hand-glazed field tile in a humble factory in San Jose. The goal was simple: make beautiful tile for customers in the way they want it when they want it.


Only the finest tiles were shipped to customers, with the remainder ending up in our legendary Boneyard, an outdoor market of factory seconds where local artists and designers could pick through boxes to find deals and cut down on environmental waste.

An attitude of doing the right thing and taking our time to do it defined Fireclay from its earliest days. In 1988 we became the first tile company to introduce 100% lead-free glazes. A few years later we expanded, building a second factory in Aromas, California where we still make our tile today.
Made a Better Way
In 1986, climate change had only recently begun being discussed outside of niche scientific journals and secret studies by fossil fuel companies. It would be another three years before an IPCC convened to publish its first study on the climate and its changes.
But environmental responsibility was always at the forefront of Fireclay's mission. Paul's belief in reducing waste through efficiencies pushed us to work tirelessly since our founding to innovate our manufacturing process and reimagine a historically dirty industry.
We sourced materials locally and used recycled materials whenever possible, not just producing tile products, but inventing brand new ones over the years.
In 1999, Fireclay developed the first recycled clay body incorporating materials from post-consumer bottles.
Sourcing domestic materials not only cut down on our environmental impact, but also helped us support our local economies, keeping money in our communities and in the pockets of local partners.
Evolutions
Over the years, as design sensibilities have changed, we've evolved our product offering to meet the moment. Not by chasing trends, but by developing tiles that would endure for decades to come, not just from a durability standpoint, but from an aesthetic perspective as well.
We still produce many of the tiles that defined us early on, but we widely expanded our handpainted offering and incorporated beautiful utilitarian field tile into our collection that adapts to traditional, modern, and contemporary styles alike.

Tile Shown: Flagstone Mini Star & Cross, neutral-motif 6 x 6 // Design: Claire Thomas
Technology
For years, Fireclay poured all of its energy and expertise into our tile-making process, and admittedly, other components of running a business remained far less sophisticated. Back in the day, our order management system was a corkboard with slips of paper pinned to them like we were short-order cooks.
Inventory management wasn't much better and our laid-back attitude created inefficiencies that weren't just hurting our bottom line but made it more difficult to meet our rigorous environmental standards and delight our customers the way we wanted.
Beginning in 2009 when our CEO Eric Edelson join the team, we invested heavily in state-of-the-art technology to give us better visibility of our production, accounting, employee productivity and satisfaction, increasing our quality and efficiency while shrinking our lead times and waste.
In 2014, technology transformed our entire business model, as we pivoted away from wholesale and began selling directly to our customers online and through our San Francisco Showroom, offering them a better value and a seamless design and purchasing experience where we could guarantee customer service would be as top-notch as our tile.
Environmental
We continued improving our environmental standards too, finding ways to recycle materials and water, reducing our emissions, and committing to offset those that remained. We make our tile with 100% renewable energy, 100% of the scraps and water used to make the Tile is recycled back into our manufacturing line and in the last three years, we've reduced our emissions by more than 50% by optimizing our efficiency and kiln use.
Certification
For our hard work, in 2015 we became the first tile company to be B Corp Certified. In 2018 we became Climate Neutral Certified. Our tiles help buildings become LEED Certified and we're on our way to being Zero Waste Certified. We've always pushed ourselves to do the right thing and we're honored to be recognized for those accomplishments.
Growth
In 2021, we broke ground on our brand new manufacturing facility, right next door to our current Aromas factory, where we'll be able to produce even more tile at a greater scale, reduce emissions through greater efficiencies and onsite solar, reduce lead times and offer more Quick Ship stock, and outpace our competition to put sustainable handmade tile, tile Made for Good, in more homes and businesses than ever.
In 2022, we partnered with Quarry Tile in Spokane, Washington to introduce our Essentials line of ceramic tile that uses a natural press technique to reduce cost and emissions. A few months later, we acquired Quarry Tile, welcoming their 82 employees and Spokane factory to Fireclay to expand our team, capacity, product offering, and opportunities for our community to choose American-made tile made a better way.
Today, that small group of four friends has blossomed into an organization of over 300, and we're still fortunate to call our colleagues our friends. Not only do we take pride in the work we do together, but we also take pride in a company culture where everyone feels welcomed, supported, and encouraged.
We host Team Resource Groups where like-minded colleagues can connect over shared interests and identities. We created a Teammate Relief Fund so teammates can support teammates during times of crisis.
And our teammates are more than just employees to Fireclay. As of 2020, everyone who works here is a part-owner, with over 30% of the company shared with Teammates through our Fireclay Tile Stock Option Plan. As Fireclay grows and succeeds, we want to bring everyone along with it, whether you're someone who's been here since day one or someone who's here on their first day.
Things That Haven't Changed
There's a cliche that the more things change the more they stay the same but we wouldn't be where we are today without the guidance of the values and mission that launched us 36 years ago.
A commitment to making the finest handmade tile with traditional techniques, a dedication to refine those techniques to meet the day's environmental demands, integrity to invest in our communities and the people who populate our organization, and an artist's unquenched curiosity to create the next beautiful thing is what's kept us going for 36 years with the kind of momentum to propel us for another 36 and beyond.
Our team has grown, the technology has changed, hey, some design trends have too, but we've always been Fireclay, makers of the best tile in the world, and for that, we're celebrating.