Made in America: We're Proud of our Handmade American Tile
Update: In 2022 we expanded our operations to Washington state. Learn more about our second tile factory here.
Did you know that all of our ceramic tile and glazed thin brick is made right here in the USA?
Since we began our tile-making journey in 1986, we've been proud to call California our home. From our sustainable Factory in the coastal hills of Aromas to our Showroom and office in San Fransisco, we're proud of the supply chains we've created in our local communities and the economic impacts we're able to contribute to in our home state of California.
Need more great reasons to choose Fireclay Tile? Check out our Top 5 Reasons to Choose Our Handmade Tile.

Image: The view from our factory in Aromas, CA surrounded by agricultural land
We're part of a long and rich history of handmade tile making in California. It all began with our Founder and Chief Ceramicist Paul Burns, who got his start as an apprentice to his uncle at the age of 10, carrying on a family tradition that dates back to the 1920s. Click here to learn more about Fireclay's origin story.
Our Factory in Aromas has a unique history as well. The space and land originally began its production journey as the processing side of an apple orchard. We've since repurposed its storage buildings to house our production equipment. We've got even bigger plans in store for our Aromas Factory this year-- be sure to stay tuned!
Learn more about our factory here!
Everywhere you look, our Factory is teeming with visual inspiration. By keeping manufacturing processes like glazing in-house, we constantly perfect our processes and experiment with new ideas to delight our customers. We're also able to retain the artisan qualities Fireclay is known for.

Image: Some of our hand-mixed, lead-free glazes
We're big supporters of local businesses. For this reason, we source the majority of our recycled and raw materials from local suppliers with who we have cultivated strong relationships with over many years.
For example, we source our clay from the foothills of the Sierra Nevada mountains, our thin brick from Sacramento, and our granite dust (used in our recycled clay body) from local quarries near our factory in Aromas. While we cannot get all of our raw materials nearby, it's important to us to source as many as we can from the United States.
Having a connection to the people and places responsible for our products allows us to be stewards of these valuable resources and sustain our local economy by spending our capital close to home.

Image: Crushed raw materials
Not only is our Ceramic Tile and Brick tile 100% made in America, but the vast majority of the tile we sell is also made to order, just for you! This helps in our effort to remain sustainable and to avoid unnecessary waste.
Speaking of waste, by manufacturing in America, we mitigate many carbon emissions associated with transportation, exhausting vastly fewer tons of carbon than goods created through global supply chains. The emissions we are responsible for are 100% offset and we are constantly innovating our American Factory to be even more sustainable.

We love a good before and after shot. See how our tile makes its way from our production line, right to you!

Image: Ogee tiles being loaded into our Roller Hearth Kiln which fires at ~2,000 degrees Fahrenheit

Tile Shown: Ogee in Salton Sea // Design: Harper Design Projects, Janie Clark // Image: Blake Verdoorn
Did you know that about seven pairs of hands touch every tile we make? It takes an entire team to create each piece of tile and we're proud of the inclusive culture we've created at Fireclay as well as the equity we share by being employee-owned. Our success is a shared success, with our colleagues and ultimately the communities we live in.

Image: Star shapes being cut out of our recycled clay body

Tile: Large Star and Cross in Tuolumne Meadows // Design: Lovely Indeed
Our bisque Picket tiles prior to being glazed:

Image: Bisque Picket tiles
Tile Shown: Pickets in Frost // Design: Rudy Winston Design // Image: Janis Nicolay

In progress Isfahan handpainted tiles being painted at the factory:


And here they are installed on an outdoor fountain:

Tile: Handpainted Isfahan in a custom color motif.
Want to create your own handpainted custom colorway? Check out our Color It Tool to explore all of our beautiful colors!

Image: Small Diamond Mosaic Tiles

Our Small Diamond Tiles installed in an Escher pattern in this colorful kitchen:
Tile Shown: Small Diamonds in Naples Blue // Design: Myri Dujovne, SOF DESIGN // Image: Myri Dujovne // Installer: Future Vision Remodeling
We're honored to be the first and only American-made tile company to be B Corp Certified and are currently ranked among the top 10% of B Corps worldwide. How did we get here? By looking beyond profits, prioritizing our people, our planet, and our community.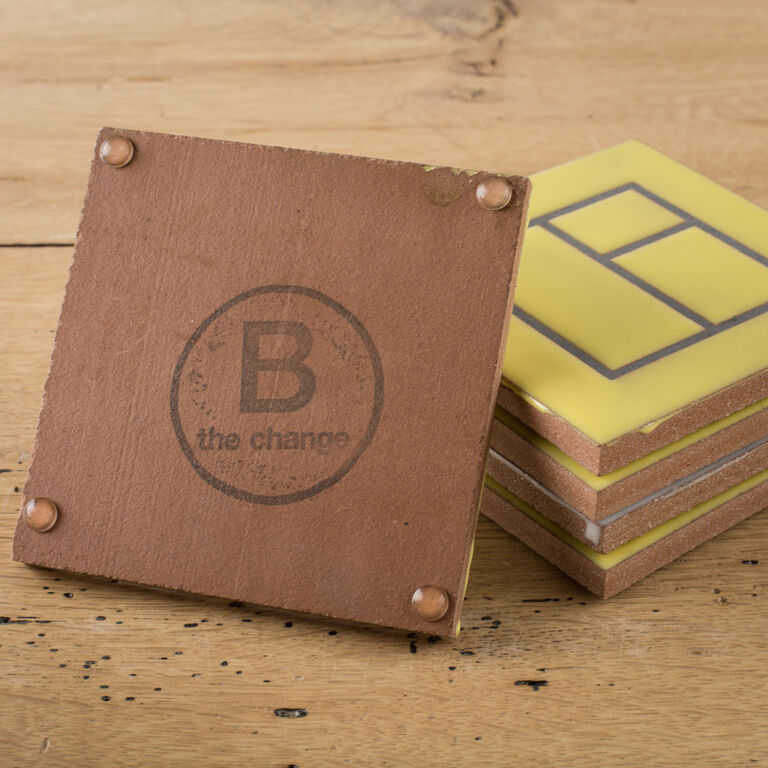 We offer a starting wage to $15/hr, substantially subsidize medical insurance and health expenses, provide 401K matching, and offer 0% interest loans.

Our Factory uses 100% renewable electricity, we're Climate Neutral Certified and are on our way to being Zero Waste certified thanks to our constant accountability and improvements to our manufacturing process.

We pledge 1% of Fireclay Tile's equity and product to non-profits, fund extracurricular pursuits for our team members and their families, donate to our local public school, and give every employee a paid volunteer day to contribute to their community how they see fit.
One standout project of 2019 was with Detroit Prep:
Tile Shown: Underground, Fountain and City Lights with 4x4 in Moonshine // Design: Hudson and Sterling // Image: The School on Sylvester
Love our USA-made tile? Order samples online now. Need some help? Simply call, chat, or fill out our Design Assistance Form and one of our talented Design Consultants will get back to you shortly.
Need more great reasons to choose Fireclay Tile? Check out our Top 5 Reasons to Choose Our Handmade Tile.
Shop the Story