Fireclay Replay: Your Favorite Tile Moments of 2022
Here at Fireclay, we're always fascinated (some might even say obsessed) to see your top tile choices each year. From your favorite gasp-worthy install to the chameleon color you crowned number one, you definitely kept it interesting in 2022.
So sit back and discover all your favorite moments this past year, including the Fireclay Color of the Year, as we press rewind with the Fireclay Replay.

Antique
Dynamic. Earthy. Timeless. Your 2022 Fireclay Aura is none other than our alluring Antique, the most sampled color this year. With its stunning color variation (this glaze is rated V4, our highest rating of color variation), it's no wonder you wanted to preview the full, glorious Antique-y spectrum in your own space.
Tile: Hexite in Antique // Design: Jared Zimmerman & Shannon Badiee // Image: Aerial Canvas
If you're set on timeless rectangles, Antique gives our standard Field Tile a beautiful brick-like look–but this glaze especially shines on our specialty shapes. From Hexite backsplashes to Star & Cross floors, this color is truly irresistible in any iteration.
Bring home your free samples here.
Tile: Star & Cross in Antique // Design + Image: The Fresh Exchange // Installer: Shugart Builders
Whether you had a tight timeline or a sudden burst of inspiration, you loved these products so much you knew you needed them ASAP–good thing everything in our Quick Ship Shop ships in 5 days or less! Here are the top 3 Quick Ship products sold this year.
3. 2x8 in Salton Sea
This soothing shade proved irresistible as a ready-to-ship option, especially in the versatile 2x8 size–you were more than ready to dive into the refreshing waters of our Salton Sea!
Tile: 2x8 in Salton Sea // Design: Michelle Lisac Interior Design // Image: Ellen Vanessa
2. 2x8 in Rosemary
You were looking for pure serenity, and you found it (in stock!) with our soft grey-green Rosemary. This shade sets a peaceful scene for an elegant bathroom. Or kitchen. Or fireplace. Or…you get the idea.
Tile: 2x8 in Rosemary // Design + Image: Erin Kestenbaum
1. 2x8 in Tusk
Above all, you took one look and fell head over heels for the effortless, versatile 2x8 in Tusk. You knew the glossy off-white color would instantly warm up your space, while the elongated rectangular shape would add a modern touch–and you were right.
Tile: 2x8 in Tusk // Design + Image: Grace Lee-Lim
Mini Star & Cross
You've got great taste–if there's one shape to rule them all, our stellar Mini Star & Cross is definitely it. This handmade interlocking tile is bursting with main character energy because it steals the show in any room you place it.
Tile: Mini Star & Cross in Red Rock and Basalt // Design: Lottie Fowler // Image: Becca Lea Photo Interiors
Star & Cross brings the drama as easily as it brings a smile to your face. Sprinkle in a contrasting color for a sweetly unexpected pop like the eclectic kitchen above, or stick with a solid hue to let the shapes shine on their own like this stunning shower.
Tile: Mini Star & Cross in Feldspar // Design + Image: Ashley Petrone
Kasbah Trellis in Neutral Motif
You couldn't get enough of the bold design on our handpainted Kasbah Trellis in Neutral Motif. Each handmade, handpainted tile is its own unique piece of art, and you were here for it.
Tile: Kasbah Trellis in Neutral Motif, 3x6 in White Wash // Design: Annabode + Co // Image: Brandon Lopez
Whether you choose to display Kasbah on your wall, floor, or somewhere else, this confident classic pattern has a distinct personality without being too loud thanks to the timeless charcoal and white color palette. Watch how it's hand-painted at our California factory below!
See even more hand-painting videos on our Youtube channel.
You saw. You gasped. You double-tapped. These three installs were Fireclay's social media darlings of the year thanks to you spreading the red heart emojis.
3. Aegean Sea Kitchen Backsplash
The bold blue backsplash in this modern kitchen electrified you. We don't blame you–that rippling color variation on full display in a beautifully symmetrical stacked pattern? *Chef's kiss*
Tile: 2x8 in Aegean Sea // Design: Terracotta Design Build // Image: Jeff Herr
2. San Gabriel Brick Fireplace
Stacked tall and illuminated by soft rays of sunshine from the skylight above, how could you not love this imposing fireplace composed of our textured Glazed Thin Brick in San Gabriel?
Brick: San Gabriel // Design: Atelier Ma // Image: Margaret Austin
1. Two-Toned Spa Bathroom
Your hands-down favorite install of '22, though? This stunning craftsman bathroom featuring two soothing shades and sizes of green tile.
Get an inside look at this bathroom's design process here.
Tile: 3x6 in Rosemary, 3x3 in Peabody // Design: Velinda Hellen Design // Image: Sara Ligorria-Tramp
Sarah Sherman Samuel
You adored Sarah Sherman Samuel's balance, refinement, and beautifully understated Fireclay Tile picks. Out of all of our Featured Designers, you sampled Sarah's favorites the most.
Image: Stoffer Photography
Sarah describes her style as "relaxed but edited, modern but warm." This approachable polished look has earned her industry acclaim and an impressive client list including Mandy Moore and Vanessa Carlton, whose bathroom below is truly a work of art.
Tile: 1x1 in Akoya and Halite, 6x6 in Akoya // Design: Sarah Sherman Samuel // Image: Joseph Bradshaw
Midcentury
The style that rocked your world this year? None other than Midcentury Modern. You fell hard for midcentury mainstays like chartreuse and orange, making this our most popular style sample pack.
Haven't sampled these yet? Bring home up to 5 free midcentury samples here.
Brick: San Gabriel and Black Hills // Design: Design Bitches // Image: Yoshihiro Makino
Midcentury's clean lines and simple forms have proven that this is a style with staying power, and tile is the perfect vehicle to express it. From the two-toned brick beauty above to the bathroom below, find even more Midcentury inspiration in our extensive install Gallery.
Tile: 1x1 Sheeted in Desert Bloom // Design + Image: Mango Street
Salton Sea
You loved 150+ colors this year, but one ruled your world: our chameleon green-blue-grey Salton Sea. Was it Salton's entirely unique hue? The artisanal crackled texture? The tranquil touch it provides in any space? We're guessing all the above–and more.
Tile: 3x3 Sheeted and 3x9 in Salton Sea // Design: Amy Alper // Image: Adam Potts
This soothing color looks different in every space, subtly shade-shifting depending on lighting, its surroundings, or simply some kind of glaze magic.
Bring home free samples to see what Salton Sea looks like in your space.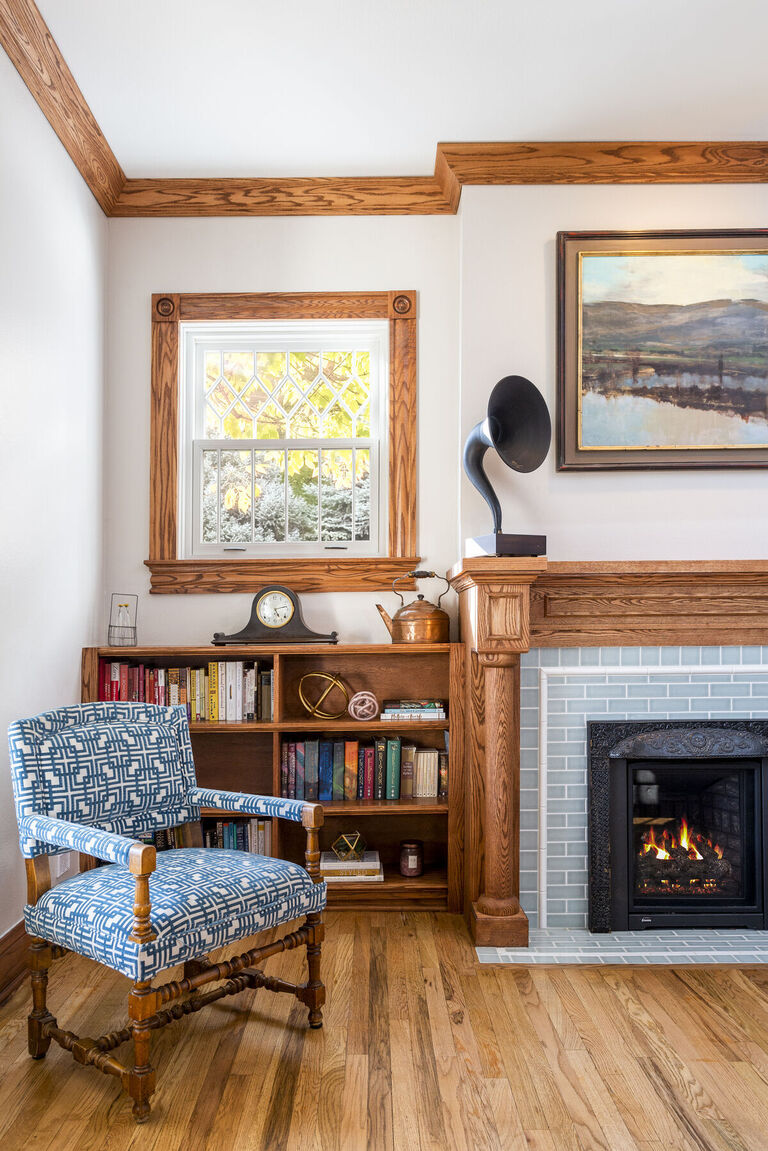 Tile: 3x3 Sheeted and 2x6 in Salton Sea, 1x6 in Frost // Design: TVL Creative // Image: Jess Blackwell Photography

And that's a wrap! Thanks so much for your support this year. We loved spending 2022 with you, and are always happy to talk tile. If you have a project in mind, make sure to fill out this simple form and we'll reach out with our always-free design assistance. Cheers!