Designer Spotlight: Meet Austin-Based Interior Designer, Kelly Laplante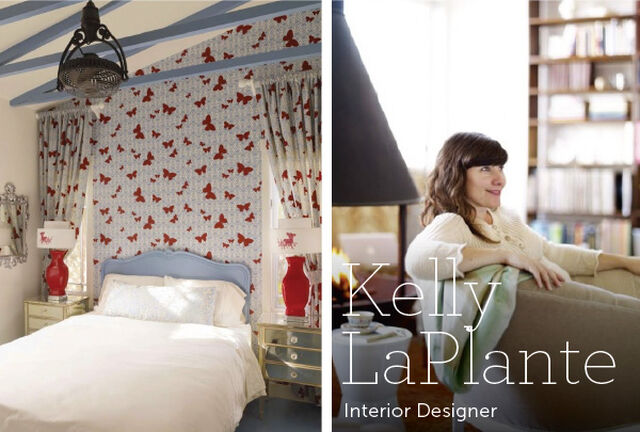 This month we're happy to spotlight one of our friends and collaborators, Kelly Laplante–The Austin-based, and self-proclaimed "dare-devil" interior designer behind Chaine Homme and Chaine Femme. Kelly has a passion for creating unique, out-of-the-box environments. "I'm passionate about pushing the envelope and incorporating surprising elements while maintaining high standards for both style and sustainability," she says. Kelly started out studying fine art before realizing design was more her thing. After studying design at San Francisco State University, Kelly moved to Los Angeles where she opened an eco-design shop and started contributing to eco-minded publications. Soon after, Kelly began staring at a variety of design TV shows, published her first book, écologique, launched Standard Magazine, and became known as a sustainable design expert in the industry. We took some time to chat with Kelly about her style, career, and where she gets her interior design inspiration.

A Quick Chat with Kelly...
My style can be described as...
Irreverent... with excellent table manners.
My design philosophy is…
Sustainability and style are not mutually exclusive.
I got my start…
At San Francisco State. My first internship was sophomore year at the Donghia showroom at SFDC, folding fabrics... Junior year I worked at the Larsen showroom and senior year I was at Suzanne Tucker's office. After that I leaped out on my own. I was a born entrepreneur and that was just about enough working for other people. (But then I had to learn a lot of lessons the hard way!)
I find inspiration in…
Others. So I choose to surround myself with extraordinary people who challenge me. Life's too short for friends who don't push you to your limits! My best friends are always on top of their game—no matter what their game is (journalism, oncology, education... and, of course, design!).
I can't live without…
Espresso, exercise (then usually another espresso) and, of course, my family.
My best design advice would be…
Leave some room in your design for the inevitable messes of life.
I love Tile because…
The possibilities are endless so you never have to repeat the same thing twice!
My favorite Fireclay color is...
Different every day. Today I am staring at Mediterranean—it's on my desk inspiring a new coffee shop design.
Salt Lake City Home Office, photographed by Jon Armstrong for écologique
Austin Fashion Week Pop-up shop, photographed by Leeza Henderson
The image above is a pop-up shop for Austin Fashion Week that Kelly designed and produced.
Tile design in Beverly Hills Residence, photographed by Kelly LaPlante
Venice Beach Eco Cottages photographed by Eric Staudenmaier for écologique
While in Los Angeles, Kelly transformed three rundown homes into the Venice Beach Eco Cottages.
Backstage at Austin Music Hall, photographed by Kelly LaPlante
Kelly gave the Austin Music Hall a face-lift just in time for President Obama's campaign appearance.
Want to see more of Kelly Laplante's work? Check out her website. Kelly Laplante | Austin by Design