Designer Spotlight: Destination Eichler
Tile and Mid-century homes are a match made in design heaven and the husband and wife team behind Destination Eichler really make our tile shine in these spaces. Karen Nepacena and John Shum started a design blog that chronicled their renovation of their own Eichler home, but this blog has since transformed into a full service design firm; Karen leads the design process and John manages studio operations and marketing. We're sharing some of their beautiful projects below and also talked with Karen about their design philosophy, sources of inspiration and of course, tile:
This is Karen:
Here's a bit about Karen (and her husband John too):

Our style can be described as... Eclectic Modern. I love vintage furniture and accessories because of their stories (told and untold!) and it's a chance to give these pieces a second life. We mix new budget-friendly pieces, with iconic heirloom items that we can someday pass down to our children.
Our design philosophy is... Modern, yet approachable. We are drawn towards clean lines and uncluttered design. We have a (very active!) young family, so when designing for our own home or clients with kids, our designs need to be both practical and durable. John's Industrial Engineering background helps to bridge a strong connection between interior design, construction detail, and problem-solving.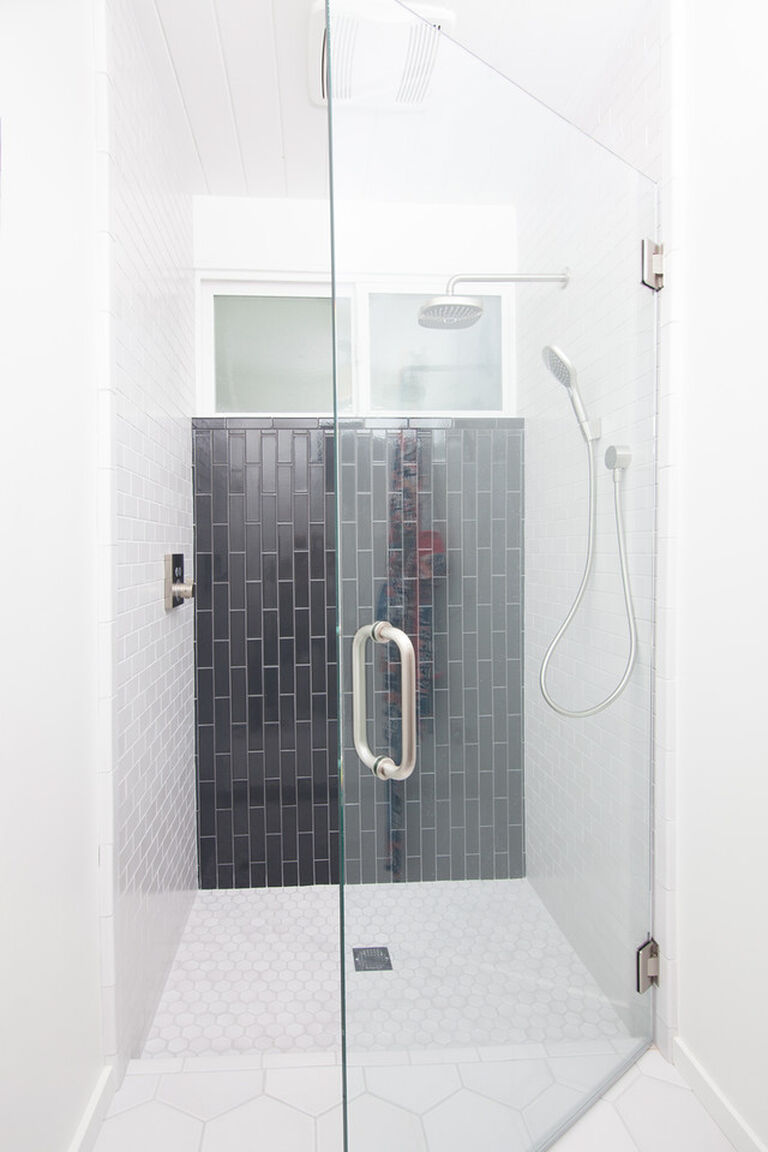 Tile Shown: 2x8s in Akoya, 2" Hexagons, 6" Hexagons and 2x4s in Daisy.
Tile Shown: 2x8s in Akoya, 2" Hexagons, 6" Hexagons and 2x4s in Daisy.
I got my start... I studied Interior Design during an Art program abroad in Italy. Then I spent most of my career in the retail home furnishings industry. John and I have owned, renovated and sold several homes and always did the design (and a lot of the construction) ourselves. A few years ago, we were asked to help design the interiors for an Eichler home that had seen rough days and was being prepared/renovated for re-sale. We provided design direction and historical perspective to the investors, with a design goal to retain many of the home's original qualities, but bring in modern functionality for the new homeowners. Once completed, the home sold quickly to a young family expecting their first child, and now they still live there with their two children. Through our renovation blog and work on our own home, we started to receive requests from other modernists to help them design and restore their homes.
We find inspiration in...Architecture, dance and music. I used to be a professional ballet dancer; John a classically trained musician, so we are fascinated with details such as handcrafted instruments, composition and story-telling. We aim to bring harmony and an understanding of our clients to our projects, to help them create a new space in their homes that tell a story.
My best design advice would be...Keep a balance. If you are going to go big with a bold backsplash design, then balance it with neutral flooring or understated cabinetry. Or maybe you go with a stunning floor pattern, say for a bathroom, then keep it simple with the rest of the tile installation.
Tile Shown: Small Diamonds in Lagoon. (This is Karen and John's home)!

And now onto the tile...How did you hear about us?
KN: When we embarked upon our own Kitchen Renovation, we knew we wanted to bring in tile that would act as a focal point to our Kitchen space, but also had a nod to midcentury modern design. I stumbled upon Fireclay's tile through photographs online and was inspired by the color selection, geometric shapes, and the sustainability of manufacturing. The fact that the tile is made right here in California was the icing on top. Then we went to the Showroom and received amazing, personal service and have been proud Fireclay customers ever since.


Tile Shown: Small Diamonds in Lagoon.
When designing spaces, how did you come up with the color scheme and design?
When choosing tile color and pattern, the cabinetry finish is one of several key starting points. The color I choose needs to balance the cabinetry finish, whether a fresh white door, or deep, warm natural wood panel. For the 1964 Eichler Renovation, I envisioned a dramatic look for their Kitchen. The clients had lovingly restored their original luan wood paneling, so I thought a deep color like Loch Ness would really make a statement against the rich tones of the luan walls and new bamboo cabinets. I feel very fortunate to work with clients who trust my design sense and desire to bring personality to their spaces.
Tile Shown: 2x8s in Loch Ness.
Tile Shown: 2x8s in Loch Ness in a straight set pattern in a client's home.
You used our tile in your own Eichler kitchen, how was the process different than designing for client's homes? Was it more or less difficult to make decisions?
KN: It's so much harder to make decisions for your own home! For projects in our own house, I've usually already "decided" a direction in my head (after hours of research), and then I need to get my husband caught up on the process that led me to the design choice (which in the end, he usually agrees!)
Tile Shown: Small Diamonds in Lagoon.
With Clients, my goal is to make the design process really smooth and seamless. I'm there to do all the "researching," then give them a curated, abbreviated selection of ideas to choose from, so there's hopefully not a lot of spinning circles. The best is when they love my initial idea and we just go for it.
How did the installations go? Did you face any challenges?
So far, very well! I have great support and service from the team at Fireclay (thank you Katie!), who work with me through the design and ordering process to ensure we have all the details. There's always slight changes when construction actually begins, but we as a team try to plan ahead and reduce the unknowns as we can.
On our own installation of the Diamond pattern (which we personally installed), the clear sheeted tile made for a more accurate installation and handling versus other common methods such as paper sheeting - where you can't see exact tile positioning, or nylon webbing where tiles can fall loose and handling is more clumsy.
Tile Shown: Small Diamonds in Lagoon.
What is something you think is important to note when working with a handmade tile like Fireclay?
KN: Not every tile is going to be "perfect," both in color and feel, but that's exactly why we love it. These tiles are made from natural materials and by hand -- it's truly a craft, and when installed, the tiles become an art piece.
Tile Shown: Pickets in Pyrite.
Are there any shapes or colors that you really want to work with, but haven't had a chance to include them in a project yet?
KN: Yes! I love the Handpainted collection. I'm drawn to the geometric patterns, hues, and the old, yet new feel to them. They would be perfect for several of my projects, which are restorations of classic, historic homes, but bringing something fresh and new (yet familiar) to an older home.



Image: An inspiration board for a project currently in progress!
Inspired by any of these colors? Order samples online now. Need some help? Simply call, chat or fill out our Design Assistance Form and one of our talented Design Consultants will get back to you shortly.
Shop the Story