Trim pieces can be like the icing on a cake to a tile installation. Basically, they can be very necessary. While many projects may only call for glazed edge or bullnosed pieces, others might need a bit more traditional flair. This is where our architectural moldings come into play. Architectural Moldings can be found in residential kitchens, bathrooms, fireplace surrounds and in commercial spaces too.

They come in more standard sizes like the ones below (liners and a cove base):
To more intricate styles:
Below, we're sharing some design inspiration featuring these classic trim pieces. For more information on the Architectural Moldings we offer, head to this blog, it outlines all your options or simply contact us with any questions you may have, we're happy to help.
In Your Kitchen:
Are you creating a focal point for your kitchen backsplash? Or just framing out your tile in general? Architectural Moldings are a great solution for creating a finished look.
A simple Round Liner was used in the kitchen below to transition between handpainted and field tile.
Tile Shown: Madrid Custom Color Handpainted Tiles and 4x4 tiles in Gardenia.
A Round Liner can easily frame out a focal point like the one below.
Tile Shown: 3x6 tiles in Cerulean.
You can see in the backsplash below how they have used one of our 2" Moldings to transition from their tile to the wall.
Tile Shown: 2x4s in Tusk in a herringbone pattern.
In Your Bathroom:
Whether you are finishing of a wainscot wall, framing a mirror or trimming a shower niche, architectural moldings work wonders in a bathroom application.
Tile Shown: 2x6 tiles in Sea Foam, with one of our 3" moldings finishing off the wainscot walls.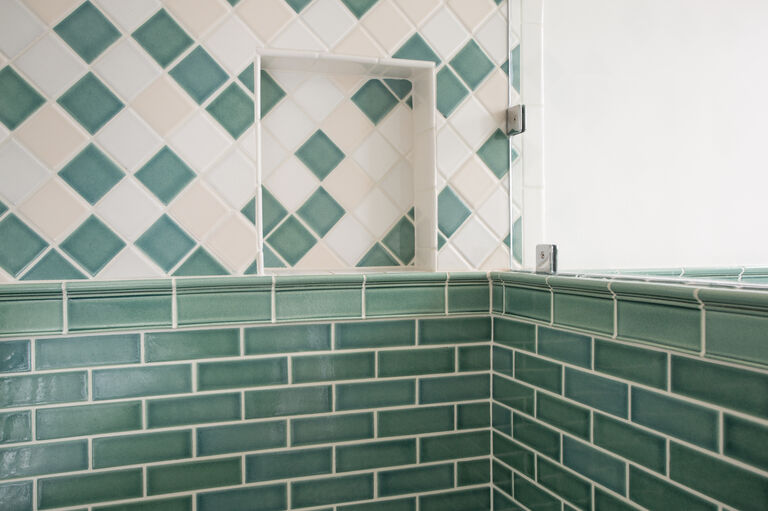 Tile Shown: 2x6 tiles in Sea Foam, and 3x3 squares in Sea Foam, Daisy and Gardenia, with one of our 3" moldings trimming the shower walls.
Tile Shown: Our 3" Architectural Moldings.
One of more standard Architectural Moldings is a Cove Base, which is a trim piece that is installed along the base of an interior wall where the wall meets the floor. You can often find this trim piece in both residential and commercial bathrooms. It looks nice and makes for easier cleaning too!
In the beautiful shower installation below, you can see a whole lot of Architectural Molding pieces at work. To turn the corner of the shower, there are quarter rounds, as well as a "beak" to create the corner, along with Cove Bases where the tile meets with the flooring.
You can see Cove Bases at work in the shower below too:
Tile Shown: 3x6 tiles in Powder Blue, Cove Bases in London Fog for the floor.
Do you like any of the featured tile colors? Order color samples online now. Need some help choosing Architectural Moldings for your project? Simply call, chat, or fill out our
Design Assistance Form and one of our talented Design Consultants will get back to you shortly.
Shop the Story