Tile Shown: 3x6 Subway Tile in a Parquet Pattern in White Wash

Subway tile, otherwise known as a 3x6, can be installed in nearly any space. From classic to contemporary, this popular sized tile can work within a bevy of design trends and applications. We offer this size in both our White and Recycled Clay tiles, as well as our Glass tiles.
Below we'll show you our 5 favorite ways to showcase Subway Tile:
1. Offset:
An offset pattern is the most traditional way you will see Subway Tile. We see this set up frequently in kitchen backsplashes, showers and fireplaces. It is clean and timeless--whether you go for a vibrant color or a bright white. You can see below that this subtle pattern is ideal for surrounding a detailed focal point:
Tile Shown: Handpainted Isosceles with surrounding 3x6 Subway Tile in an Offset Pattern in White Wash
Tile Shown: Subway Tile Backsplash in Sky Blue
An offset pattern also works vertically as well, as you can see below:
Keep in mind that you are not limited to one color! An offset pattern can really lend itself to a striped look or a randomized color pattern.
Tile Shown: Tusk, Sea Glass and a custom green in a Subway Tile bathroom design
2. 1/3 Offset:
We're seeing more and more people turn to a 1/3 offset pattern. To most eyes, it might appear to be a typical offset, but the 1/3 offset adds a slight variation to the classic pattern.
Tile Shown: 1/3 Offset Pattern
This 1/3 vertical offset below illustrates how perfectly this pattern can emulate falling water, which is ideal for a bathroom installation.
Tile Shown: Vertical 1/3 offset in Ultra Cream with Black Patine
3. Straight Set--Vertical or Horizontal:
Straight set, whether you opt for vertical or horizontal, can have a very mid-century effect or a modern one, depending on your space. Either way, we love how tile looks stacked and it works famously in kitchen backsplashes and bathrooms.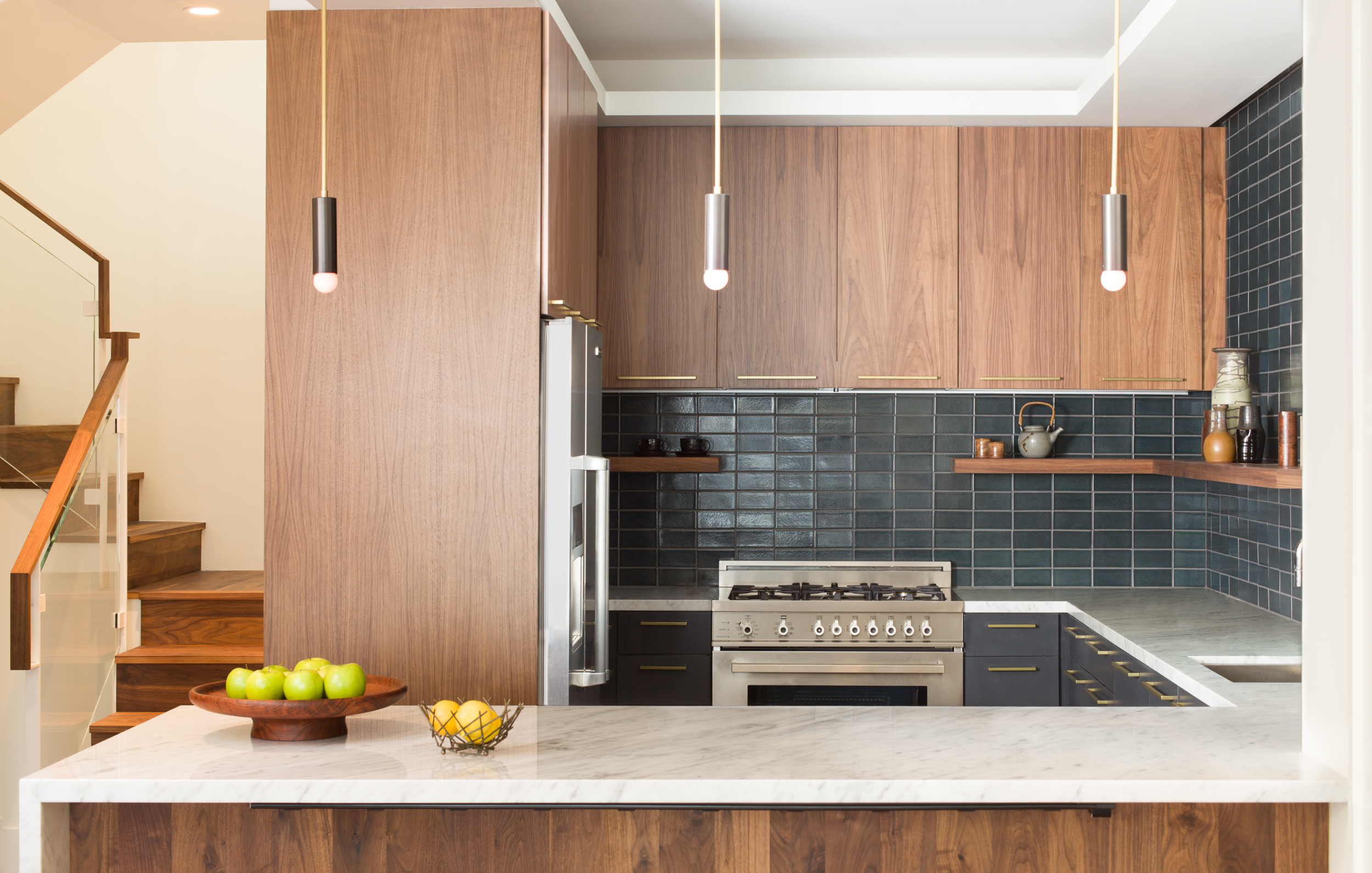 Tile Shown: 3x6 Subway Tile in a Straight Set Pattern in Loch Ness
Want to play up high ceilings or give the illusion of more height? Vertically stacked subway tiles will do the trick:
4. Herringbone:

Slightly decorative, but still timeless, a Herringbone pattern can add that something special to a design. This pattern works well nearly anywhere: backsplashes, bathrooms, flooring and fireplaces.
Tile Shown: 3x6 Subway Tile in a Herringbone Pattern in White Wash
Don't forget: You can set a Herringbone Pattern vertically as well!
5. Parquet:
It seems like this pattern is on the rise. Orlando Soria recently installed it in his bathroom (in larger format, see below) and it really inspired us. This more intricate pattern looks fresh in a bathroom application and works well for flooring in any space.
Tile Shown: 3x6 Subway Tile in a Parquet Pattern in White Wash
Tile Shown: 3x12s in White Wash
Go colorful! This pattern looks amazing in bright hues too:
Tile Shown: Parquet Pattern in Cerulean
Do you like any of the colors featured in this blog? Order samples online! Need some help? Simply call, chat, or fill out our Design Assistance Form and one of our talented Design Consultants will get back to you shortly.
Shop the Story