Curious About Minimalist Design Style? Start Here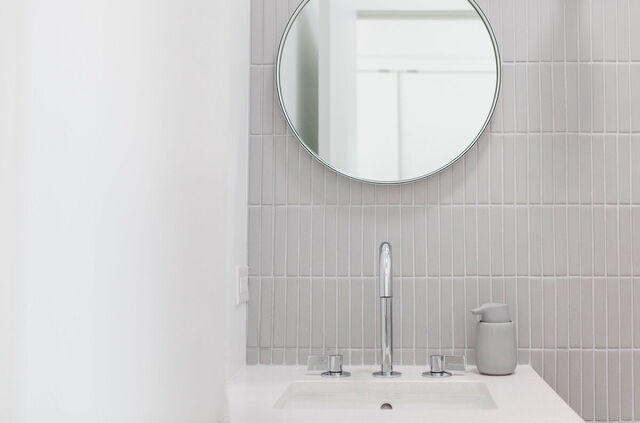 While midcentury modern design may be the most recognizably enduring style to come out of the 20th century, we'd argue that minimalist design is a close second. Full of simple lines, high-quality pieces, and natural light, minimalism has all the elements of a style with staying power.
Tile Shown: 3x9 in Calcite // Design: Chango & co // Image: Judy Pak, Sarah Elliott
Whether you're interested in adopting minimalism in your own home or simply curious about this pared-down aesthetic, we're answering frequently asked questions about minimalist interior design and providing plenty of examples and inspiration along the way.
What Are The Principles of Minimalist Design?
Minimalism's mantra is "less is more." This design style, pioneered by modernist designers and architects like Ludwig Mies van der Rohe and Frank Lloyd Wright, emerged in the 20th century as a rebuke to the heavily decorative styles of the time.
Form and function are equally prized, with each item in a minimalist space carefully chosen for maximum utility as well as aesthetics.
Due to the edited decor, there's an emphasis on high-quality craftsmanship, and the ample natural light preferred by this style becomes a kind of interactive design component as it travels through a minimalist space putting a spotlight casting shadows on the carefully chosen pieces and forms.
Tile Shown: 1x6 Sheeted in Milky Way // Design: Tamar Barnoon // Image: Laure Joliet
Minimalist home decor is just that–minimal. Superfluous decor is eschewed, and walls are typically left bare or feature one thoughtfully chosen piece of art. Homes are often open-plan style with airy, monochromatic interiors and integrated storage to keep spaces uncluttered.
Minimalism celebrates the beauty in simple forms and the materials used to create those forms, without ornamentation to distract.
Tile Shown: 1x6 Sheeted in Gypsum // Design + Image: Amanda Jane Jones
Are Minimalist Interiors Always White?
While white is a common color in minimalist spaces, it's certainly not the only color–so don't be discouraged if you have pets or kids! Soft neutrals such as beige, terracotta, or grey are also popular choices for a minimalist color palette.
The most distinctive feature of this interior design style is a neutral monochromatic color scheme, sometimes with one (but only one) accent color such as navy blue or matte black. That said, dark-colored spaces can follow the tenets of minimalism too, as this modern kitchen demonstrates.
Tile Shown: 2x8 in Basalt // Design: jennifer jorgensen // Image: 2nd Truth Photography
Embrace a minimalist palette with our top picks, including color samples in Adobe, Cardamom, Sandstone, Pumice, French Linen, Cyclone, Daisy, and Basalt. Sample our minimalist favorites here.
What's the Purpose of Minimalist Design?
Ultimately minimalism strives to create calming interiors that provide a safe haven for its inhabitants. If your life is colorful and busy outside of the home, minimalists believe that your home should be a blank slate in order to let your mind and body rest without distraction.
Tile Shown: 3x12 in Egret Matte // Design: Kyla Ray Creative // Image: Angela Price
Although some may view minimalist architecture and interiors as cold and unfeeling, the essence of this style is the very opposite–minimalist homes are meant to be a respite from the chaos of everyday life, to create a sense of freedom and relaxation through an uncluttered, well-designed space.
With such a scaled-back aesthetic, every piece is chosen with care and stripped to its core function. Minimalism posits that clean lines, natural materials, and avoidance of ornamentation result in pure elegance only achieved through the prioritization of the essential.
Tile Shown: 2x4 Sheeted in Oyster Shell // Design: Erin King Interiors // Image: Michelle Drewes
How Do You Achieve Minimalist Style?
Don't be intimidated by minimalism–this elevated look is achievable with a tight color palette, thoughtful pieces, and ample storage. We've rounded up some of our favorite examples of minimalist interiors to demonstrate how minimalism works in different spaces.
To prevent monochromatic spaces from coming off as cold or sterile, the use of texture is key. Glazed Thin Brick is an excellent way to continue a minimalist color palette while adding interest with texture, as evidenced in the kitchen below.
Brick Shown: White Mountains // Design + Image: The Fresh Exchange
Incorporating as much natural light as possible thanks to the window above the vanity, this bathroom looks fresh and bright from the unadorned white walls down to the white hexagon tile floor.
Tile Shown: 6" Hexagon in Daisy // Design: Caitlin Flemming // Image: Jacqueline Pilar
The minimalist room below branches away from the white to a soft pink/muted beige palette. Textured walls, gorgeously minimal furniture, and a handpainted tile floor that echoes the room's color story make this space anything but boring.
Tile Shown: Handpainted Aerial in White Motif // Design: Anne Sage // Image: Echo and Earl
Tile, particularly handmade tile of high craftsmanship (wink, wink), is often used in this design style to add texture and interest. You'll notice that most minimalist tile is installed in a stacked pattern since the clean straight lines speak to the principles of minimalism.
Tile Shown: 2x6 in French Linen // Design + Image: Amanda Jane Jones
With an oversize frosted window, the bathroom below allows plenty of natural light to play against the gridded tile floor and sleek cabinetry while providing privacy so that this space can be the relaxing haven it's designed to be.
Tile Shown: 2x2 Sheeted in Pumice // Design + Image: Working Holiday Studio
Whether you're designing a minimalist bedroom, living room, or kitchen, learn to embrace empty space. Negative space is an important element of minimalist home design, as it lets the carefully chosen pieces in the space truly shine–like this handmade tile floor.
Tile Shown: Mini Star & Cross in Feldspar and Sunflower // Design + Image: SOOETSUN STUDIO
Clever, well-designed storage is key to achieving a minimalist look. Store your bathroom essentials in a sleek floating vanity, like the space below, to keep your countertops and walls minimally ornamented.
Tile Shown: 3x9 in Moonshine // Design: Lyons Studio // Image: Kyle Caldwell
The kitchen below cleverly uses a gridded white tile backsplash with an ever-so-slightly darker grout from counter to ceiling to infuse interest and texture between the smooth white cabinets while adding height to the small space.
Tile Shown: 3x3 Sheeted in Calcite // Design + Image: Alison Mazurek // Installer: Method Tile
What better place to practice minimalism than in your RV, where unnecessary tchotchkes and heavy ornamentation are already impractical? This inviting Airstream benefits from a minimal mosaic backsplash and monochromatic palette, elevating camping trips with its careful attention to every detail.
Tile Shown: 1x4 Sheeted in Cardamom // Design: The Modern Caravan // Image: Kate Oliver
In all minimalist spaces, and kitchens in particular, most if not all cabinetry is closed to hide clutter and house everyday necessities. Sleek, uniform cabinetry with flat-front doors is preferred, like these warm wood cabinets complemented by a white countertop and tile backsplash.
Tile Shown: 2x8 in Calcite // Design: Danielle Beaulieu AIA, - lieu // Image: Aimée Mazzenga
Ready to turn your space into a minimalist haven? Start with free tile samples to find your perfect palette. Want some expert advice to bring your vision to life? Fill out this simple form to get free assistance from our tile experts, including cost estimates and photo-realistic renderings.