Cottage Style: 3 Simple Guidelines to Get the Look
A little bit rustic, a little bit romantic, and a whole lot of charm–what's not to love about cottage design style? Evoking bucolic landscapes, cottage style is highly customizable and can be adapted into almost any space thanks to its unique personal touches. If you want to infuse carefree coziness into your home, we've compiled the top three characteristics of this style to help make your cottage dreams a reality.
Whether you're interested in embracing cottage design through home decorating or in a more permanent way, continue reading to learn how to bring cottage style home.

Tile Shown: Tusk in 4x4 // Design: Claire Thomas
What is Cottage Design Style?
If thinking about this style brings to mind a quaint English cottage, you're on the right track. A combination of French vintage, shabby chic, and rustic, cottage design style is all about comfort and charm. Cottage style finds inspiration in nature and rural life–think cheerfully overgrown English gardens, wood furniture, and lots of weathered natural elements.

Brick Shown: Elk // Design + Image: Danielle & Ely Franko
Light, bright, and airy spaces are a hallmark of this style since historically this design was typical of cozy cottages that wanted to appear more spacious. Nooks and crannies are common in cottage design, both to offer space-saving storage as well as perches to sit and daydream on like the protagonist in a Jane Austen novel.
One added benefit of cottage design is its sustainability through the preference for antique furniture. Breathing new life into found pieces helps keep old furniture out of landfills. Looking to incorporate antique furniture into your cottage style home? We recommend starting with a smaller, approachable piece–a wooden coffee table for your living room, for example–and building from there.
Cottage Style in Tile
Generally, white is the foundation of cottage design with lots of pastel and nature-inspired colors mixed in. We've curated the perfect tile pack for cottage style featuring Ceramic color samples in Dawn, Antique, White Wash, Sunflower, Magnolia Patine, Rosemary, Sand Dune, and Crater Lake. Sample our Cottage favorites here.
1. Embrace Florals & Patterns
Florals, plaids, stripes–embrace it all, and all together! Pattern pairing is one of the main tenets of cottage style. When it comes to pairing patterns there aren't any set rules, so choose whatever speaks to you and makes your space feel cozy. You can easily work in new patterns with accessories like blankets, shower curtains, and upholstered furniture, or really go for it with tile or wallpaper–see some save-worthy inspiration below.
We're partial to incorporating florals through tile, and handpainted tile is a beautifully elevated way to do so. This kitchen, featuring handpainted floral tile in a custom colorway, exemplifies cottage design with a high-impact backsplash.

Tile Shown: Sintra in custom motif // Designer: Annabode Interior Design // Image: S. Brenner Photography
Another way to incorporate florals with tile? Arrange hexagons in a floral shape! With so many color combinations possible, this classic installation is an interior designer's dream–just look at this lovely bathroom.

Tile Shown: 4" Hexagon in Dawn, Vintage Leather, Tusk, and Basalt // Design + Image: Claire Thomas
Mosaic tile is a perfect, playful way to incorporate patterns into your cottage home. Create a pattern across the floor, like in this bathroom, and use accents and decor to mix in even more patterns.
Tile Shown: Daisy, Mustard Seed, Dusty Blue, Blue Velvet, and Hunter Green in 1x1 Sheeted, and Nautical in 2x8 // Design: Victoria Ford // Image: Marcus Ford
This kitchen embraced pattern with open arms and then some. The wall-to-wall plaid tile pattern is made even more spectacularly cottage-esque by a primavera pink and green motif.

Tile Shown: Evening Glow, Kelp, and Hunter Green in 3x3 // Design + Image: Claire Thomas
Warm floral printed wallpaper is expertly matched with a modern checkerboard tile floor in this sunny, romantic bathroom.
Tile Shown: Haystack in 3x3 and Calcite in 3x3 // Design + Image: Claire Thomas
2. Focus on Light and Airy Spaces
Airy yet intimate spaces are the objective of cottage style. Since cottages historically had smaller square footage, it was desirable to make rooms appear bigger while cultivating warmth and intimacy within those same rooms. These ideals may sound a bit contradictory, but keep reading to see some examples of how they work together in real-life spaces.
A perfect example of how a light and airy space can feel cozy at the same time, this kitchen is filled to the brim with cottage decor ideas. The antique cabinet, vintage-style rugs, and open shelving displaying treasured pieces come together to infuse warmth and comfort in one beautiful space.
Tile Shown: Aegean Sea Paseo // Design + Image: Kaity Farrell
Soft color palettes and open shelving go hand in hand with light, airy spaces. This cottage style kitchen feels much bigger than it actually is thanks to the white brick backsplash and soft grey-blue cabinets.

Brick Shown: Olympic // Design: Tinge Floral // Image: Kate Osborne
One guaranteed way to make any small space light and airy: add sunny swirls like the handpainted tile radiating across this bedroom floor. Copious amounts of indoor plants add to the cozy cottage vibes.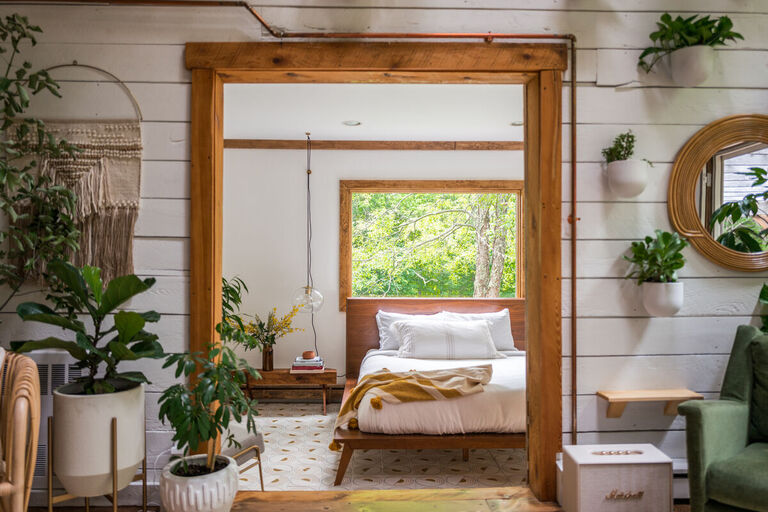 Tile Shown: Aerial in Custom Motif // Design + Image: Danielle & Ely Franko
Carefully curated accents add a warm and homely feel to otherwise neutral spaces. A white palette in this sweet kitchen, including textural brick backsplash, sets a foundation for nature-inspired colors and cozy cottage details to shine.

Brick Shown: Olympic // Design: Lauren Madden // Image: Sarah Porter

3. Integrate Natural Elements
Cottage style traces its roots to the thatched-roof homes found in rural countrysides and Grimms' fairytales. Those humble abodes, a mixture of rustic and romantic, were filled with natural elements which remain a key component of this design style today. Exposed beams, well-trodden wood floors, woven materials, and botanical prints are all natural elements common to this style.
This bathroom is a lovely example of how to integrate natural elements in a unique way. The beautifully botanical handpainted bathroom floor is complemented by a textural green paint finish on the wall for a cozy modern cottage look.

Tile Shown: Gingko in Green Motif // Design + Image: Kaity Farrell
Cottage style is inextricably linked to rural settings, and this rustic bathroom evokes countryside nostalgia beautifully with weathered wood and delicate floral wallpaper.

Tile Shown: Sand Dune in 3x12 and Tusk in 3x12 // Design + Image: Danielle & Ely Franko

With wood floors, a rustic hearth, and bold nature-inspired motifs surrounding the fireplace, this playroom exemplifies cottage charm. Bonus points for the antique children's rocking chair.

Tile Shown: Gingko in Green Motif // Design: The Misfit House // Image: Kristin Karch

Have your eye on a little fixer-upper upstate? Our design consultants can help you design the cottage of your dreams with handmade tile and our free design services. Reach out to be connected with your personal consultant today!