Color Spotlight: The Dark Side
Design: Kristen Peña
As the days are getting darker, we can't help but think of our darker shades of tile. However, whatever the season, black tile is a timeless choice. A shade that can find itself right at home in an array of design styles, we're seeing it used more and more (for good reason). From sleek and modern, to rich and rustic, we're sharing four ways you can use our materials to show your darker side. If you're wanting more visual inspiration, head to our Pinterest Board dedicated to all our black tile colors.
1. Make it Matte
Our Matte black, Basalt is a Fireclay favorite (both with employees and customers). Modern and sleek on its own, but easily pairs with other neutrals and colors as well, this shade is definitely worth considering for many-a-project.
Tile Shown: 3x9s in Basalt.
Basalt's rich tone and smooth texture make it a beautiful option for wall applications. If you like the installation below, choose a 2x8 sized tile and pair with a matching black grout.
Image: My Domaine
Bay Area interior designer Kristen Peña gives this bathroom a dramatic edge with matte black 8" hexagon wall and shower tile.
Tile Shown: 8" Hexagons in Basalt
Basalt's matte finish makes it an ideal candidate for flooring and you can't go wrong with a classic hex floor like the one below.

You can go for all Basalt for a look like the one above (which looks great) or pair it with contrasting color like they did at Light Lab.
Tile Shown: Light Lab's bathroom is outfitted in 6" Triangles in Basalt and Calcite.
Highlight Basalt with a contrasting cheerful color, like they did with a custom pink at Mister Jiu's in San Francisco.
Design tip: Basalt is ideal for flooring in both residential and commercial flooring because it is a glaze on our Recycled Clay Body, plus it is a matte glaze.
Tile Shown: 6" Hexagons in Balsalt
2. Go for Gloss
If you want a bit of shine for your black tile installation, we have two options for you: Pitch Black (on our White Clay Body) or Raven (on our Recycled Clay Body). We offer both so that you can easily mix them with other colors in the same clay body.
Design tip: If you want to play with texture, try pairing either of these glossy black tiles with a similar color in one of our matte finishes.
Tile Shown: 3x6s in Raven and Carbon.
While you can go fully to the dark side with black tile and pair with other dark finishes, this kitchen illustrates how black tile doesn't have to dominate a space, it can just compliment it.
Tile Shown: 3x6 tiles in Raven and Carbon. Brick Floor tile: White Mountains and Black Hills.
Black tile can read as classic just as easily as white tile. We love the short splash featuring black tiles in the rustic kitchen below. If you love this look, choose Pitch Black in a 6x6 size.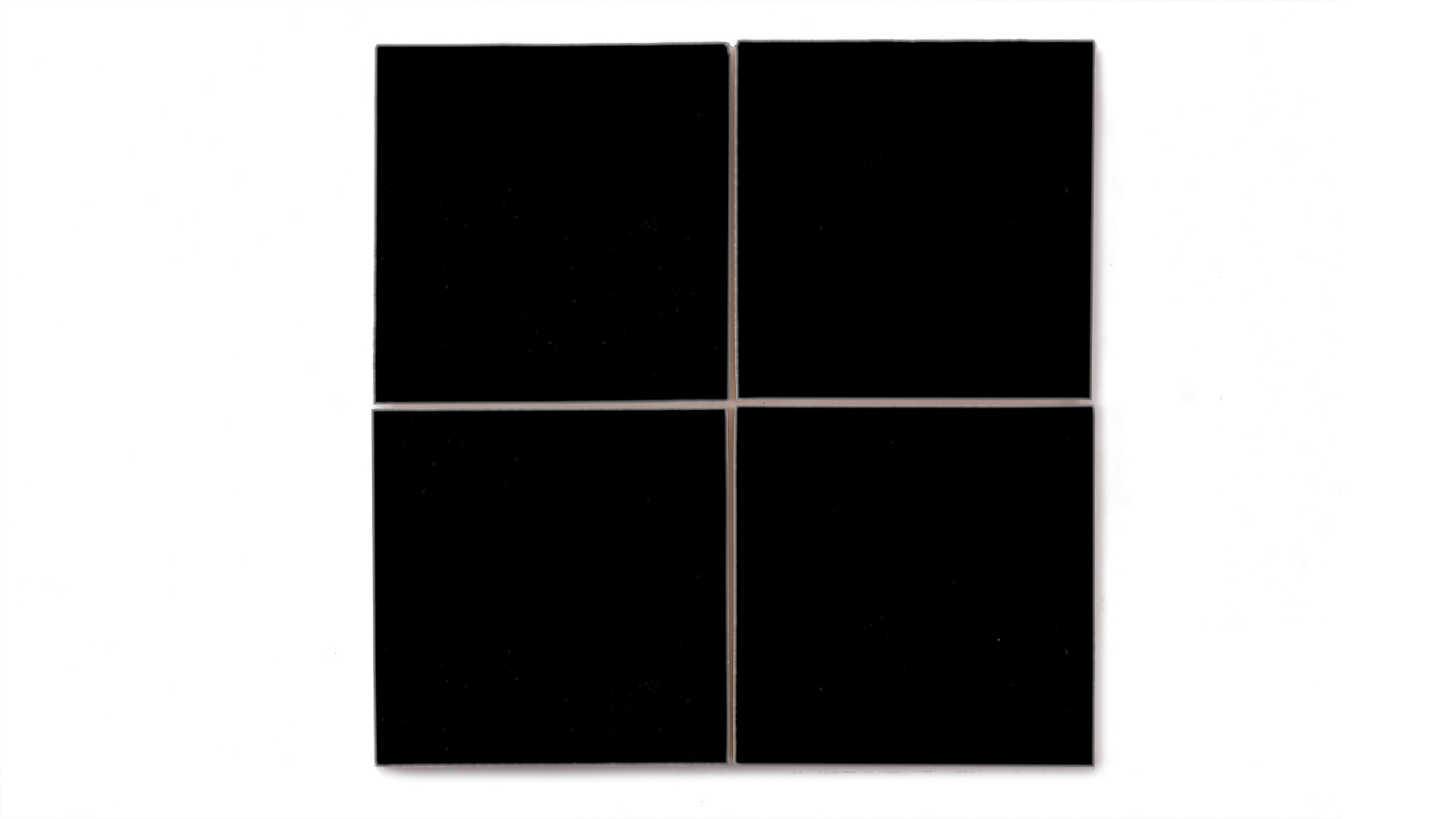 Tile Shown: 6x6s in Pitch Black.
3. Black Brick
Want a sleek look but with a rustic edge? Choose our Glazed Thin Brick in either Black Hills (Matte) or Bitterroot (gloss). Design tip: We're big fans of mixing tile finishes and these shades would look so good installed together.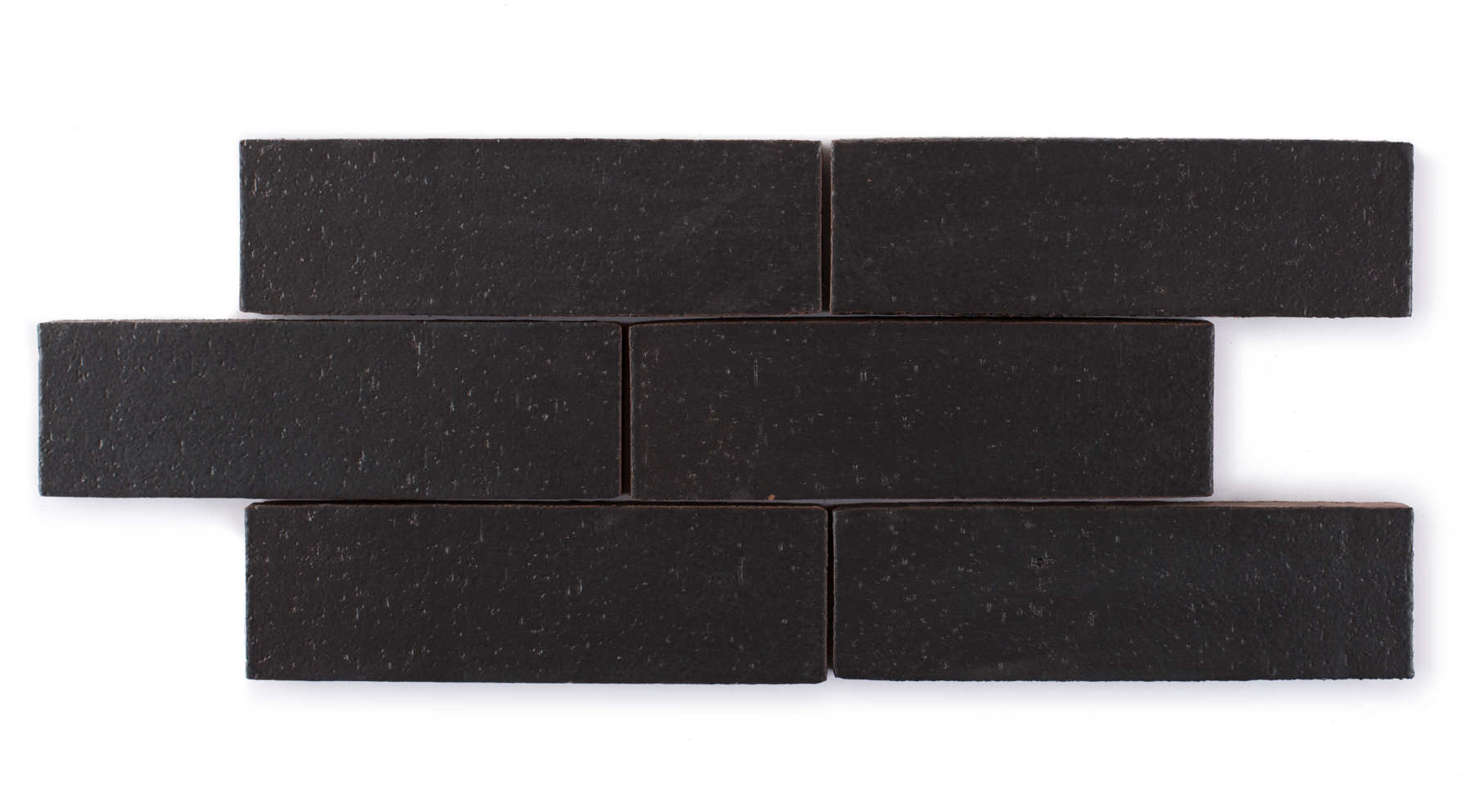 Brick Shown: Black Hills
We'd love to see our matte black, Graphite (our newest black tile) installed as an interior wall like in the office space below:
Design tip: There may have been a day when black and blue were a no-no, but those days are long gone. Don't hesitate to pair black brick or tile with painted cabinetry as they have done in the kitchen below.
If you're loving the glossy brick in the kitchen above, you'll likely be charmed by Bitterroot:
Brick Shown: Bitterroot
4. Paint it Black...with Handpainted
(Note: It was impossible to resist the famed Rolling Stone's lyric on this one). But seriously, whether you choose a handpainted pattern in our dark motif or go rogue with our Color-It Tool, you're going to get show stopper tile. Below is a handpainted kitchen backplash in Kabuki Sphere in our Dark Motif. This motif uses the color Carbon, but would look just as amazing in Basalt if you want that matte finish in a slightly darker shade.
Tile Shown: Kabuki Sphere in Dark Motif.
This kitchen goes to show that black tile doesn't have to mean a dark or moody space. Otherwise bright, with light materials, the darker handpainted tiles give an anchor to the room.
Tile Shown: Kabuki Sphere in Dark Motif.
If you like the look of a darker handpainted tile, check out our Black and White Collection. We'd love to see someone use our Uni Mountain (below) for their backsplash in a kitchen or bathroom setting.
Tile Shown: Uni Mountain in our Black and White Motif.
Thinking about going to the dark side? Order color samples online to see what shade and material works best for your project. Need some help? Simply chat, call or fill out our
Design Assistance Form and one of our talented Design Consultants will get back to you shortly.
Shop the Story