Anatomy of a Dream Kitchen
Are you destined for your dream kitchen? Whether you're building a new home from the ground up or are finally installing the kitchen you always dreamed of in your forever home, you're no doubt thinking of every detail to set your kitchen apart from the rest with a list of requisites you won't compromise on.
Tile Shown: Olympic Standard Brick Tile // Design: El Encanto Design and Construction Services // Image: El Encanto de la Laguna
Make sure you've got every corner of your dream covered with this quick guide featuring a collection of the most covetable kitchens from today's top designers.
What is a Dream Kitchen?
Tile Shown: Fallow White Motif // Design: Fairfax Dorn Projects // Image: Luke White
So what is a dream kitchen anyway? Only you can answer that question, but simply put, a dream kitchen should match the way you live and utilize a kitchen while offering no shortage of elegance, convenience, and visual appeal.
Tile Shown: Aegean Sea Star and Cross // Design: Fiddlehead Design Group // Image: Scott Amundson

Start by answering a few basic questions:
Do you prefer cooking or entertaining?
Is your kitchen a source of calm or vibrance?
How big is your household?
What are the shortcomings of the kitchen you already have?
How much space do you have to work with and what are you willing to sacrifice–be it dining, living, or storage space–to go bigger?
What is your budget?
The answers to these questions will help you choose your color palette, appliance spec, footprint, and finishes.
Not answering these questions could leave you with someone else's dream kitchen by the time construction is wrapped, so be honest with yourself and let your lifestyle guide the look, feel, and function of your design.
Tile Shown: Mist 4x8 // Design: EJ Interior Design // Image: Brad Knipstein
What Should Be in a Dream Kitchen?
Luxurious Lighting
Tile Shown: Flagstone 3x6 // Design & Image: Rejuvenation
Proper lighting brings a kitchen to life. Not only is it essential for safe and pleasant food preparation, but the right lighting will also elevate the look of all the other design elements put into your kitchen.
Tile Shown: Frost 4x8 // Design: Jillian Harris // Image: Janis Nicolay
Lighting itself can dramatically add to the design of your kitchen. Large pendant lights fill overhead space in the center of your kitchen and lead the eye to a focal point in the room.
Tile Shown: White Mountains Standard Brick Tile // Design: Barringer Architecture // Image: Vivian Johnson Photography
The best light is natural light and the opportunity to install skylights in your kitchen is a luxury not to be passed up.
Tile Shown: Summit Neutral Motif // Design & Image: Anita Yokota
Extensive Counter Space
Tile Shown: Eucalyptus 1x6 // Design: Annabode // Image: Brandon Lopez
When homeowners describe their kitchen as 'too small', it is often the counter space that is most lacking. Preparing food, especially for a party or family, can be frustrating without adequate space for your ingredients, cutting boards, mixing bowls, tools (and a festive glass of wine). When this precious square footage is split by your sink or range, it becomes even less useful.
Tile Shown: Kasbah Trellis Neutral Motif // Design & Image: Destination Eichler
A dream kitchen demands plenty of room so you can mise en place in peace and have space to cook and plate without clutter. An island can dramatically add more counter space, as well as a central focal point.
Tile Shown: White Wash 3x6 // Design & Image: Coastal Living
Want to get really dreamy? A double island gives you an abundance of counter space, occupies the extra area in an open concept kitchen, and serves as a gathering space for casual meals, homework, family time, and parties.
Tile Shown: White Wash & Daisy Ogee Drop, Jardin Fretwork White Motif // Design: Susan Hall Studio // Image: Emily Minton Redfield
Ample Appliances
The appliances you choose will determine what your kitchen is capable of, as well as the impression it makes on your guests.
Tile Shown: Dolomite 4x4 // Design: Thea Home Inc., Stephanie Hanes // Image: Matt Armendariz
Some appliances are meant to stand out, like a Wolf oven with its signature red knobs, while others are best blended in, like a refrigerator or drawer dishwasher with a facade to match your cabinets.
Tile Shown: French Linen 2x6 // Design: Sanabria and Co., Old City Design Studio // Image: Stacy Zarin Goldberg
Look beyond the basics to elevate your kitchen with appliances like smart home-enabled wine coolers, under-counter ice makers, countertop induction burners, double ovens, hearth ovens, and custom range hoods.
Tile Shown: Overcast 6x6, 3x6 & 2x6 // Design: Vaught Frye Larson Aronson Architects // Image: James Maynard
With modern technology, modern conveniences can be both elegant and efficient. Look for energy-efficient models for more sustainable design choices.
Intentional Organization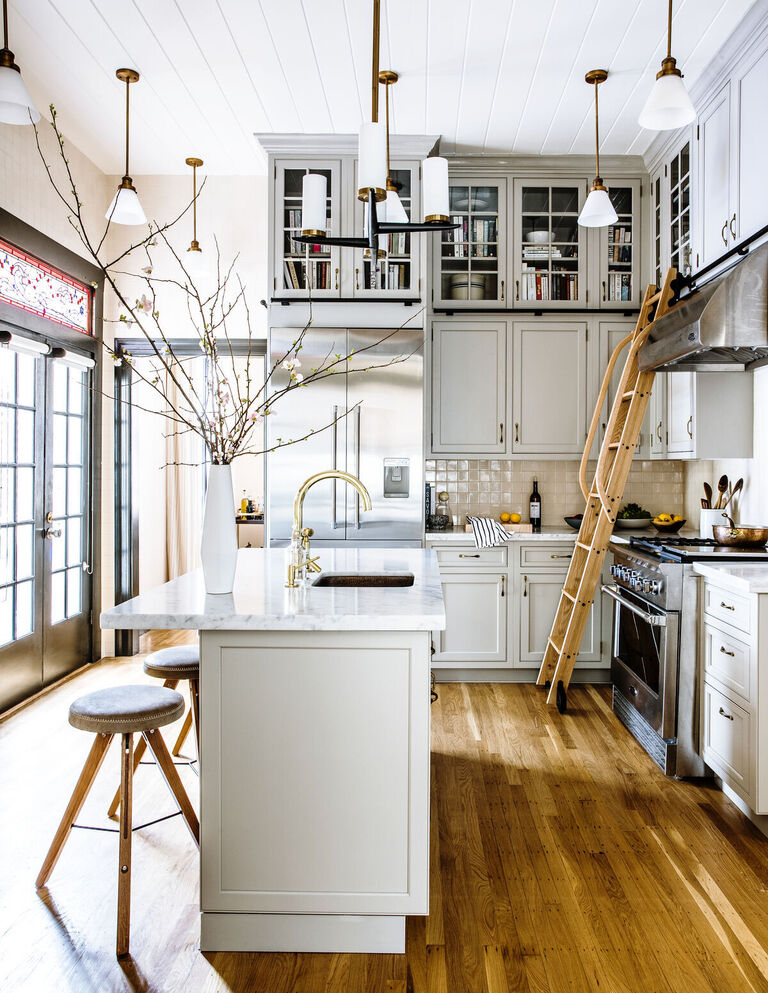 Tile Shown: Winter Mountain Neutral Motif & Milky Way 3x3 // Installer: Lynn K. Leonidas // Image: Sunset Magazine
Kitchens store a ton: food, spices, booze, tools, small appliances, tableware, you name it, and yet a dream kitchen gives the appearance of a carefully curated assortment fit for a magazine spread. Organization is key, not only for appearances but functionally, where the things you need are easy to find, access, and use on a daily basis.
Tile Shown: Front Range Standard Brick Tile // Installer: Jon De La Cruz // Image: House Beautiful
Custom cabinets are a near-must in a dream kitchen for a one-of-a-kind look that intentionally takes advantage of the layout and design of the rest of your kitchen.
Tile Shown: Calcite 2x8 // Design: Danielle Beaulieu AIA, - lieu // Image: Aimée Mazzenga
Alternatively, open shelves are as popular as ever and give an opportunity to display well-designed wares that are too good to keep behind closed doors.
Tile Shown: Tumbleweed 3x9 // Design: Ginny Macdonald, Styling by CJ Sandgren // Image: Jessica Bordner, Sara Tramp
A ladder elevates your design and your storage opportunities to access an additional row of overhead cabinets or shelving.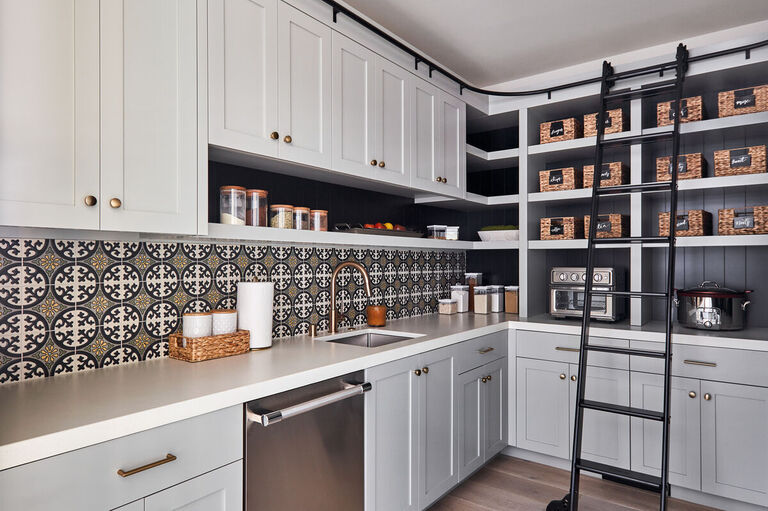 Tile Shown: Lugo Neutral Motif // Design: JL Interior Design // Image: Thomas Kuoh

Personalized Finishes
Finishes are the personality of your kitchen, and by extension, a representation of you as an individual. It's your dream kitchen, so make sure it looks the part. Beyond lighting and kitchen cabinets covered above, here are some finishes to carefully consider.
Backsplash
Tile Shown: Alameda in Custom Motif, Flagstone Mini Star and Cross, Flagstone 1x6 // Design & Image: Claire Thomas
The backsplash has become the showpiece of any kitchen, so elevate this protective surface into a precious work of art. Slabs of natural stone or handmade tile–especially in a handpainted design or specialty shape–add a refinement to your kitchen that can't be replicated.
Tile Shown: Evergreen Star and Cross // Design: Rebecca Gibbs Design, Gibbs Design Build // Image: No Bad Things
Floors
Floors also determine the tone of your kitchen, as well as determining the amount of upkeep you'll put into them. For a dream kitchen, avoid vinyl, laminate, cork, or concrete.
While these are affordable and fairly easy to care for, they lack the luxury of other options. On the other hand, hardwood floors are a classic choice, especially for traditional or farmhouse kitchen designs, but spills must be cleaned quickly to avoid damage.
Tile Shown: Magnetite 8x8 & Elk Standard Brick Tile // Design: Taylor and Taylor // Image: Tiffany G Studio
It should come as no surprise, but tile is our favored option for kitchen floors, with an abundance of color, shape and pattern choices for a perfect balance of elegance and durability.
Tile Shown: Daisy 3x12 // Design: Hatchworks // Image: Robert Gomez Photography
Countertops
Like the backsplash, your countertops are a functional finish meant to dazzle. Marble, granite, tile, wood, concrete, solid surface material, and quartz are all material options for custom countertops.
Tile Shown: Basalt, Blue Velvet, Dust Storm 2x8 & Dust Storm 3x6 // Design & Image: Camille Kurtz
Consider the motif of your kitchen and if you want your countertops to complement it or stand in stark contrast.

Hardware
Tile Shown: Mustard Seed 2x8 // Design & Image: High and Tight Design
Don't skimp on the small details. They're what sets professionally designed kitchens apart from the rest. A great way to increase the wow factor of your kitchen (for not a lot of extra cost) is being intentional about your hardware.
Room to Entertain
Tile Shown: Uni Mountain Custom Motif & Calcite 3x12 // Design: Jennifer Morrison, Morrison Design House // Image: Jeff Roberts Imaging
They say the party always gravitates toward the kitchen, so make sure you're presenting the best space for your guests. If you've followed the steps above, this one should be easy.
Tile Shown: Sintra Custom Motif // Design: Annabode Interior Design // Image: S. Brenner Photography
An open concept kitchen, free of clutter with plenty of counter space and room to move about, well lit with well-designed lighting highlighting your luxury finishes, and outfitted with appliances to provide for their every need is a recipe for party perfection.
Tile Shown: White Mountains Standard Brick Tile // Design: CGC Design // Image: Andy McRory
If you're a truly prolific partier, you might even consider two kitchens, one for work and one for pleasure. A scullery or prep kitchen can also help keep the mess away from where your guests gather.

And finally, for the ultimate summer party space, a well-appointed outdoor kitchen can't be beaten.
Tile Shown: Bitterroot Standard Brick Tile // Design: Best Practice Architecture // Image: Ed Sozinho
Ready to make your dream a reality? Our design consultants can help bring your kitchen vision to life with handmade tile and our free design services. Reach out to be connected with your personal consultant today!