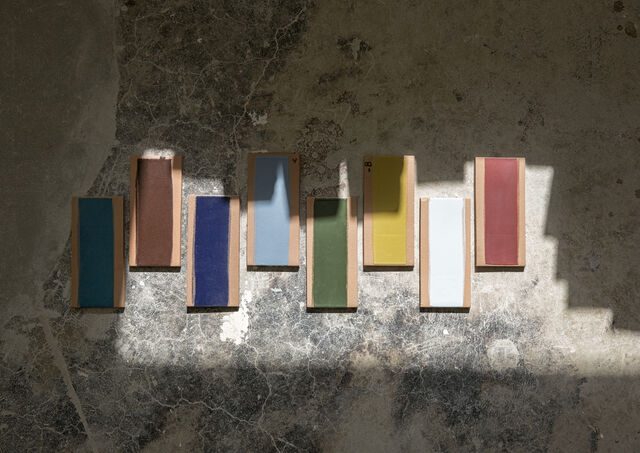 Looking to spice up your color palette? We have 8 new matte colors that ought to do the trick. These colors may be inspired by autumnal hues, but you're sure to love these timeless shades all year round and for years to come. From cool blues to warm tones, these smooth glazes are suitable for nearly any space. We're sharing our brand new colors (along with design inspiration) below, but if you want more, head to our Pinterest Board.

Mustard Seed:
For the artist in all of us, this rich yellow tile gets a sophisticated touch with a soft matte glaze. This yellow hue would easily be at home in both kitchens and bathrooms, as it offers the perfect touch of warmth and color, without being overwhelming.
Tile Shown: 2" Hexagons in Mustard Seed.
This matte yellow could work its magic in nearly any space, but we have to mention how good it would look in a mid-century modern space like the one below:
Tile Shown: 2x4 tiles in Daffodil.
Hunter Green:
This is the grown-up green you've been looking for. Fall in love with its warm undertones and velvety matte finish.
Tile Shown: 4" Triangles in Hunter Green.
We love the idea Hunter Green in a bathroom setting, especially if it were installed like the image below (that tub surround)!
Vintage Leather:
Purists will be enamored with the natural look of this earthy matte tile, made all the richer with its deep cherry undertones.
Tile Shown: Chaine Femme in Vintage Leather.
While you generally expect to see cooler tones in a bathroom setting, we're into seeing the unexpected warmer tone:
Peacock:
A natural flirt, this vibrant blue tile was made to flaunt. A subdued finish adds just enough room for intrigue.
Tile Shown: Peacock
If you're going for a rich, moody blue bathroom, look no further than Peacock. This saturated hue would make for one glamorous bathroom oasis; we like the idea of installing it from floor to ceiling in one of specialty shapes, like an Ogee Drop:
Image: Mad About the House
Blue Velvet:
Indulge your color palette with a dusky indigo hue that's irresistibly sumptuous and endlessly sophisticated.
Tile Shown: 4" Triangles in Blue Velvet.
We'd love to see Blue Velvet installed in a kitchen like the one below:
Image: Apartment Therapy
Dusty Blue:
Like your most trusted pair of jeans, this subdued matte blue hue effortlessly slips into spaces of any style.
Tile Shown: Dusty Blue
Matte glazes are great for a bathroom floor application (more slip resistance) and in a geometric shape...perfection! We love how the blue floor tile really pops in the bright white bathroom below. If you like this look, try Dusty Blue in our Small Diamond shape.
Image: Costume.dk
Morning Thaw:
Consider this your color wake up call. Our minty blue tile takes on a refreshing matte finish for a modern edge.
Tile Shown: Small Diamonds in Morning Thaw.

If you're looking for just a note of color, Morning Thaw will be perfect for you. Whether you install in your bathroom, kitchen or fireplace surround, you're bound to be happy with your decision. You can see from the bathroom below how just a touch of blue can go a long way:
Image: House to Home
It's important to note how well these colors pair together too! Try a few of these colors together for a beautiful result!
Tile Shown: Small Diamonds in Hunter Green, Morning Thaw and Mustard Seed.
Have you fallen for these 8 new glaze colors? Order samples online now. Need some help? Simply call, chat or fill out our Design Assistance Form and one of our talented Design Consultants will get back to you shortly.