7 Design Tips for an Idyllic Cottagecore Kitchen
By Ted Ryan
No design style sums up dreamy getaways in the country better than cottagecore. Characterized by a combination of French vintage, shabby chic, and rustic, this whimsical style finds inspiration in nature and rural life.
Whether you're designing a second home, a must-book Airbnb or simply long for the simple life full-time, a cottagecore kitchen will help you bring bucolic vibes to your home wherever you call home.
Here are 7 tips to help you design the cottage kitchen of your pastoral dreams.
1. Use Calming Colors
Tile Shown: Olympic Standard Brick Tile // Design: Lauren Madden // Image: Sarah Porter
Choosing your color palette is the first step curate a cottage style. Light neutrals, pastels, and sepia tones all set the mood for a rustic cottage kitchen.
Here are a few of our favorite cottage kitchen colors:
These colors are inspired by nature but also evoke a sense of calm and carefree joy, precisely what some time spent getting away from it all should inspire.
2. Embrace Pattern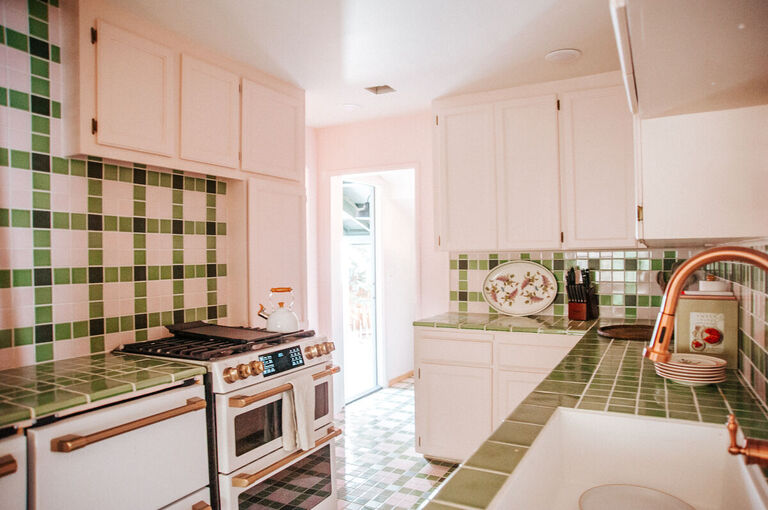 Tile Shown: Evening Glow, Kelp & Hunter Green 3x3 Sheeted // Design: Claire Thomas // Image: Claire Thomas
Patterns are a hallmark of cottagecore style and help give your kitchen a nostalgic look of life in the country.
Here are a few of the best patterns for a cottage kitchen:
Patterns can be bold, using tile or wallpaper to create full coverage designs in your kitchen. Or you can make a more conservative statement with your curtains, kitchen towels, wall art, and other accents.
3. Bring Nature Indoors
Tile Shown: Aegean Sea Paseo // Design: Kaity Farrell // Image: Kaity Farrell
The perfect cottage should be accompanied by the perfect garden, and filling your home with the fruits of your labor is one of the best ways to decorate your cottage kitchen. Fresh cut flowers and hearty greenery epitomize the natural beauty that cottagecore celebrates, so don't hold back beautifying your cottage kitchen with nature's artwork.
Tile Shown: Tusk and Antique Mini Star and Cross // Design: Sara and Rich Combs // Image: Sara and Rich Combs
For more permanent design choices, look to wood, stone, tile, and brick to create an earthy vibe to stand the test of time.
4. In With The Old
Cottagecore might be a recent trend but the aesthetic isn't trying to reinvent what's already working. What one would find in a 19th-century cottage is found just as readily in a cottagecore kitchen today.
Farmhouse kitchen tables, cast iron cookware, vintage china, reclaimed materials, and antique flea market finds are all right at home in a cottage kitchen. This appreciation for the old makes cottagecore among the most sustainable aesthetics.
Tile Shown: Calcite 2x6 // Design: Sarah Sherman Samuel // Image: Sarah Sherman Samuel
Same goes for the structure itself. Celebrate exposed beams, hardwood floors, and other irreplaceable elements of your cottage's original construction.
5. Highlight Nooks and Crannies
Design: Danielle & Ely Franko // Image: Danielle & Ely Franko
Cottagecore aesthetic is all about working with what you have and quirky nooks and crannies only add to a kitchen's charm. Many cottages have past lives as barns or carriage houses and feature floorplans that weren't initially designed for indoor living. Before changing an unusual layout of a cottage kitchen floorplan, put it to good use as a breakfast nook, a sitting area, or a pantry.

6. Return of the Hearth
Tile Shown: White Wash 3x6
In the 1800s you'd be more likely to find a fireplace in the kitchen of a cottage than the living room as hearths did more to create meals than ambiance. Even with today's modern conveniences, a fireplace adds unmatched character to a cottage kitchen, even if it does make more statements these days than meals.
7. Mix and Match
Tile Shown: Calcite, White Wash & Frost 3x3 Sheeted // Design: Joy Street Design // Image: Sen Creative
A classic cottage sees many lives with generation after generation passing through to make their small mark. So it's not uncommon for cottagecore kitchens to include a mix of materials, designs styles, and kitchen decor.
Grandma's mortar and pestle might sit alongside your modern pastel standup mixer. Heirloom cast-iron skillets might hang above a contemporary stainless steel range. And a 100-year-old rug might sit beneath a 200-year-old table.
Cottage style isn't meant to look like it was designed all at once, but rather naturally arranged with years of accumulation and editing, so don't be afraid to put your own personal touch on the kitchen while still preserving its historic essence.
Have your eye on a little fixer-upper upstate? Our design consultants can help you design the cottage kitchen of your dreams with handmade tile and our free design services. Reach out to be connected with your personal consultant today!