The new year is here and we're sharing our top 5 tile trends of 2016. From geometric shapes to larger format tile, this feels like a year to go bolder and brighter, whether you express this with a pattern, a saturated hue, or a contrasting grout color is totally up to you.
Below are our top 5 tile trends of 2016. Want more inspiration? Head to our Pinterest Board!
1. Geometric Patterns
We noticed moore and more people are gravitating towards geometric shapes and patterns in 2015 and think it will be a trend that sticks around. For more on going geometric, check out our
Pinterest Board.
Hexagons were all the rage this past year, perfect for flooring (all those grout joints make for a solid grip) but also work wonders for accent walls, kitchen backsplashes and fireplace surrounds.
Tile Shown: 8" Slate Blue Hexagons
You can also try the geometric trend with our glass tiles too:
Tile Shown: Spearmint Glass Diamonds in an Escher Pattern
We'd be willing to bet that shapes like our Picket and Kite will see more action in 2016. We like the idea of being playful with geometric shapes and pairing neutrals with brighter colors in an installation.
Tile Shown: Pickets in Shetland Wool, White Wash and Daffodil.
You can really play up the geometric shape of our kite by choosing a blend of colors and setting them like this:
Tile Shown: Kites in Oyster Shell, Gypsum and Pewter.
2. Square tile
We're really behind the idea that square tile is back in the game, we even wrote a blog dedicated to squares (and a Pinterest Board too). From small to large, the versatile square can take on a classic or modern feel depending on how the are installed.
Our square tiles range from 2x2 to 12x12, so they can really suit any need.
Tile Shown: All of our square sizes in White Wash
We love the bright shower below that uses 4x4s on the walls and smaller 2x2s (perfect for no-slip) on the floor:
Tile Shown: Tusk in offset 4x4s on the walls and straight set 2x2s for the shower pan.
Try going modern and moody with darker square tile in a stacked pattern. For a bathroom like the one below, you could try 4x4s in Basalt.
3. Contrasting Grout
A darker grout line can have you thinking of the 80s, but what isn't cyclical these days? A contrasting grout joint has made its comeback and it doesn't look at all dated. Partner to the geometric trend, a contrasting color can make a pattern or shape pop.
NOTE: Make sure to use grout release if you are using a white or light colored tile as dark grout can stain. It is good to test a small portion before proceeding with the installation.
The kitchen below showcases how much a pattern is shown off by a contrasting grout color. Try a 6x12 for a look like this one.
We love that the bathroom below uses contrasting grout with both the white and black tile for a really intentional effect. (It also shows off another one of our trends for 2016, larger format tile).
Speaking of square tile...a great way to show off a grid pattern is with bright white tile and a darker grout.
4. Saturated Colors
You can't argue that whites and neutrals reign supreme, but saturated colors are on the rise. Rich color can liven you space year round, whether it be brightening your kitchen or creating a bathroom oasis.
We're betting we'll see a lot more rich greens and blues this year. Imagine soaking in the tub surrounded by a soothing sea-inspired hue like the one below:
Tile Shown: Sea Foam in 2x6
A darker, saturated blue is perfect for a bathroom setting, as the image below illustrates:
For a moody blue look like the one above you might try our Ogee Drop or Paseo in Martinique:
Tile Shown: Paseos in Martinique
5. Go Big with Larger Format
Standard sized field tile will always be popular, but we're betting more people go for sizes like 3x9, 3x12 and 6x18. You can treat tiles of this size the same as you would field tile, making the classic feel more unexpected.
Try a pattern like a parquet with our 3x12 tiles: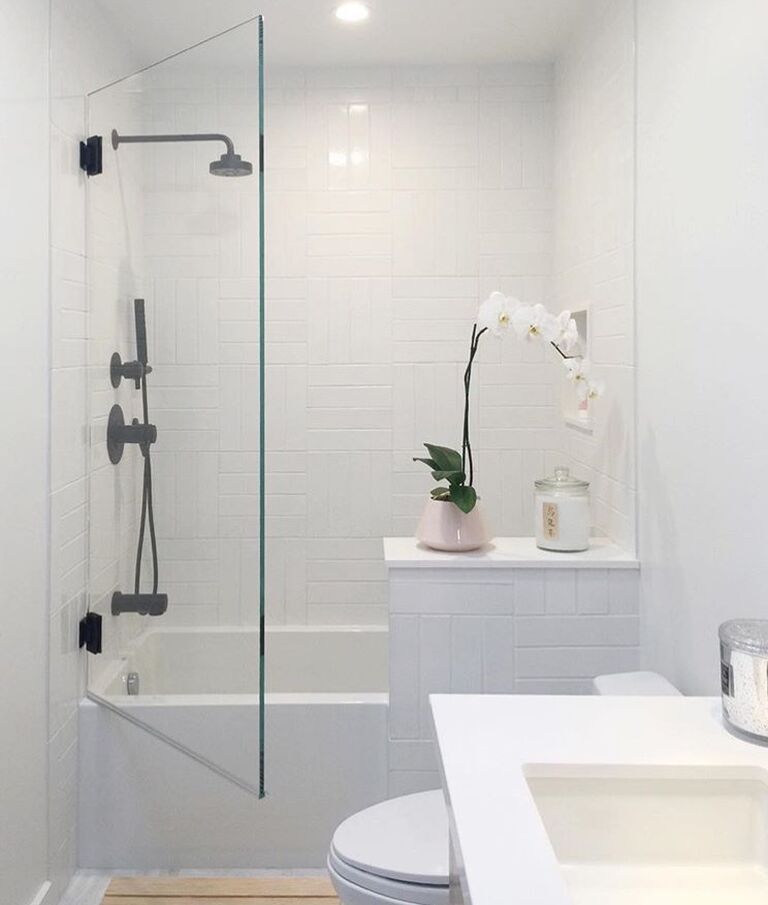 Tile Shown: 3x12s in White Wash, Image: Orlando Soria
You can go really big for a modern effect, like the bathroom below. If you like this, you might check out our Edge series and consider a 6x18 sized tile in one of our matte glazes.
Do you like any of the featured colors? Order free samples now. Need some help? Need some help? Simply call, chat, or fill out our Design Assistance Form and one of our talented Design Consultants will get back to you shortly.