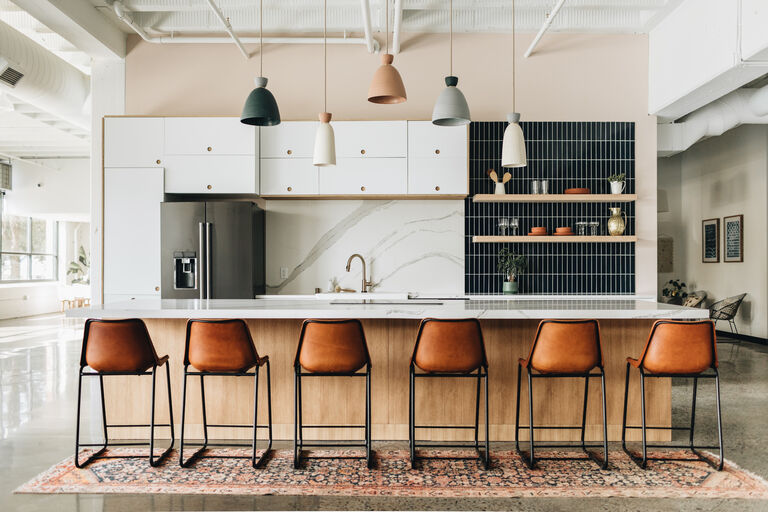 It's that time of year again...We're sharing our 2018 tile trend forecast! Our Creative Director, Jamie Chappell, is taking you through four of her predictions below, but you can find even more inspiration on our 2018 Tile Trends Pinterest Board.
Always Trending - Hexagons
Hexagons are one of the most classic tile shapes, and the last few years have pushed them back into the shape spotlight in a big way. For 2018 we anticipate the popularity of the hexagon (and its many variations) to continue to grow. Try using hexagons in unexpected ways, such as on walls or in larger sizes to add a playful touch of pattern to your installation.
Hexagon tiles have always been a popular shape for flooring, but we've seen more and more people choose this shape for their kitchen backsplashes in the past couple of years and we're big fans.
Tile Shown: 4" Hexagons in Aqua in Elana Jadallah's kitchen
Mosaic sizes aren't just for your floor or shower niches. Go for 2" Hexagons on your kitchen backsplash for a fresh look like this:
Tile Shown: 2" Hexagons in White Wash
If you fancy a less traditional look, shape like Hexite, or our Small Diamonds lend themselves to a hexagon vibe, with a more modern twist.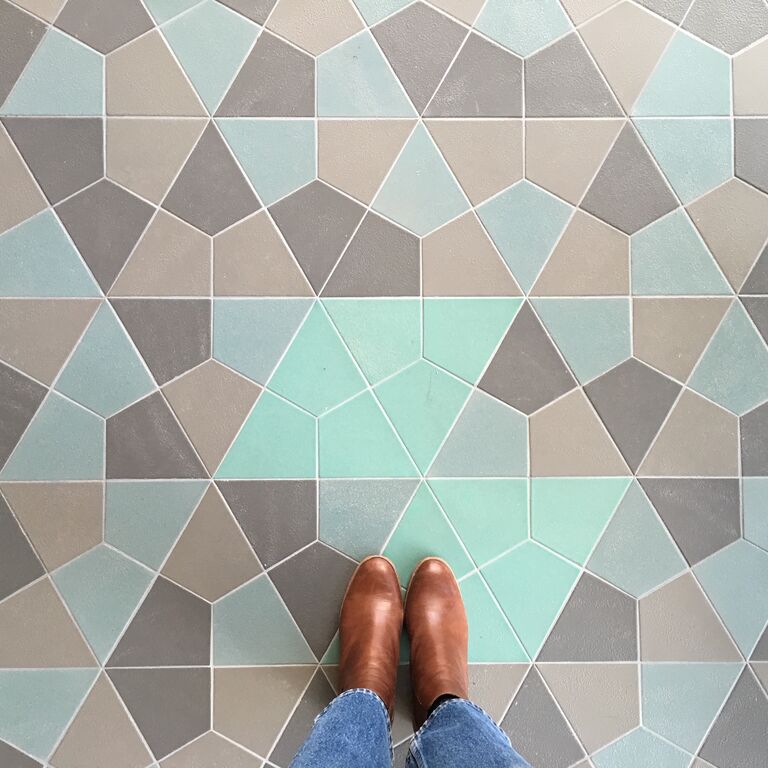 Tile Shown: Hexite in Flagstone, Iron Ore, Magnetite and Tidewater
Colors That Evoke an Emotion
Deep colors that immediately evoke emotion have been flooding interior mood boards and we are expecting 2018 to bring the drama with darker shades. A few of our favorites are Venetian Green, Navy Blue, Hunter Green and Basalt. When paired with organic textures, wooden elements and metallic finishes these colors will infuse a sense of luxury into any space.
A closer look at those Navy Blue tiles in the Studio MLPS kitchen:
Tile Shown: 2x8s in Navy Blue
Darker, saturated colors don't have to feel heavy or ominous. Pair a matte black like Basalt, with white walls and wood finishes for a look that is dramatic but not overly moody.
Tile Shown: 8" Hexagons in Basalt; Design: Kristen Peña
Brick Comes Home
Playing off the steadfast trend of spaces that embrace natural and organic elements, we expect to see our Glazed Thin Brick used in more residential installations in the coming year. Brick introduces a rustic, yet refined texture which brings a casual elegance to any space; especially when installed as a full height backsplash, herringbone pattern floor or focal fireplace. Colors such as Andromeda, Mars, and Blue Nebula enhance the surface texture of our brick with a softer, watercolor feel.
Our Brick looks beautiful in bathroom settings: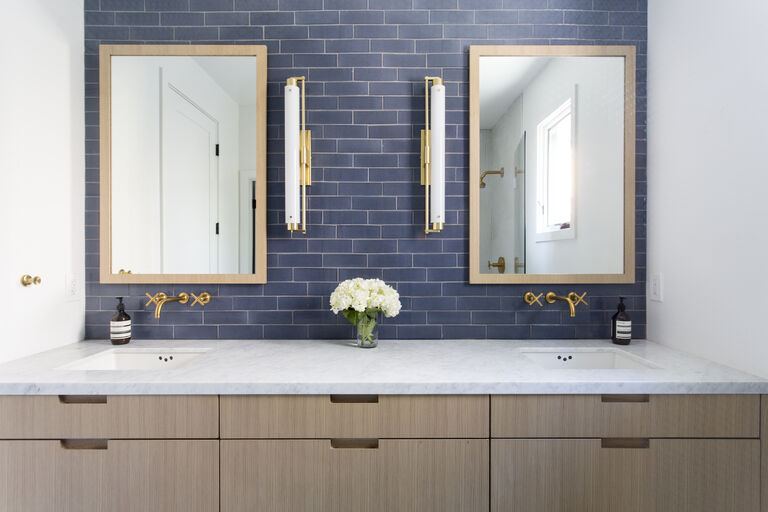 Tile Shown: Supernova; Design: Anja Michals; Image: Vivian Johnson
A classic choice for a fireplace, our Brick adds texture with its rustic finish:
Brick Shown: Cotton
There's nothing like a brick floor and we're crazy for this material in a herringbone pattern.
Brick Shown: Northwoods
Please note: While we do not recommend our Brick for commercial flooring or for your shower pan (it is too porous) it can be used in all residential flooring and in a bathroom setting as well.
Patterns Made of Pieces
Spaces infused with pattern have been dominating interior trends in recent years. We are predicting a shift towards monochromatic patterns created by interlocking tile shapes that create subtle texture, rather than immediately draw your eye to one specific element in an installation. Try out the Star and Cross, Picket, Hexite or Chain Homme to inject a little texture into your space.
Tile Shown: Pickets in Celadon; Design: Arcsine; Image: Paul Dyer
The Joshua Tree House added subtle contrast to their Mini Star and Cross kitchen by choosing to have a single row of tile in Antique:
Tile Shown: Mini Star and Cross in Tusk and Antique
If you want to make your pattern pop, just choose a slightly contrasting grout color:
Tile Shown: Chaine Homme in Daisy; Design: Caitlin McCarthy Designs
Inspired by these trends? Order color samples online now. Need some help? Simply call, chat or fill out our Design Assistance Form and one of our talented Design Consultants will get back to you shortly.
Shop the Story