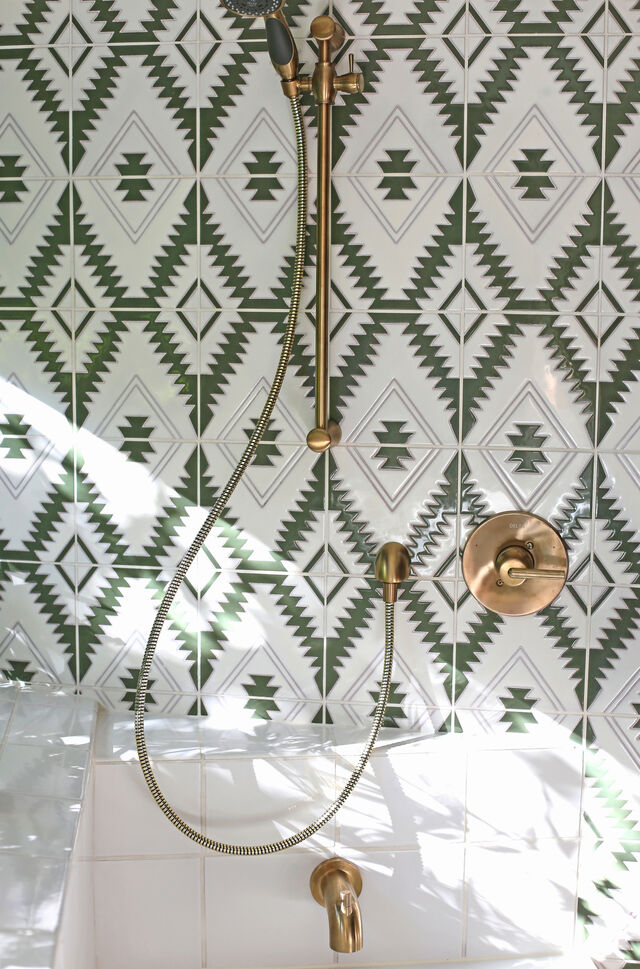 Fireclay Tile Inspiration Gallery: Lush Meets Luxe Double Bathroom Remodel
Now that we've got 2016 under our belts, it's time to look towards our #resolutiongoals. Ready to turn a new leaf this year? We've got four tile trends that are going to be making a big splash as we head into 2017. Head over to our Pinterest Board for more inspiration.
Go Geometric
Geometric tile will never go out of style, but we predict it'll come up in a big way this year. One of our favorite projects was when we partnered with Light Lab and gave their creative space a pop of pattern with a triange tile kitchen island.

Fireclay Tile Inspiration Gallery: Justina Blakeney's Jungalicious Bathroom
Another favorite project came in the form of big, bold, and blue hexagons adorning Justina Blakeney's Jungalicious shower.
Change Your Hearth

Handpainted Tile Shown: Old Cairo in Black and White Motif
We've already seen lots of fireplace tiles we love, and we think 2017 is going to show even more love for the hearth of the home. Try tile trends like bold graphic prints to give your fireplace a whole new perspective.


Even just a single bright pop of color can breathe life into the most minimalist of living spaces.
We love this fireplaced donned in our Nave Blue tile. Fireplaces with floor-to-ceiling backdrops are gaining traction, helping to add the illusion of height to the living room.
Make It Matte
Matte tiles are going to have a strong showing this year. We love how a matte finish adds a sophisticated and modern edge to any hue. Not sure where to find them? Our newest colors are a good place to start.


Our matte tile colors are perfect for mixing and matching to create a refreshingly modern mosaic (geometric tiles are and added design bonus).
Our matte colros also feature subtle variation, accentuating their artisanal appeal. These matte blue floor tiles help to make this bathroom a calm and organic-inspired escape.
Color-It! Custom
There's no better way to express your unique sense of style with a Handpainted Tile customized by you. One of our most-loved projects, a customized Old Cairo pattern, was designed using our easy Color-It! Tool:
This Kabuki Sphere backsplash is another example of our custom-colored Handpainted Tile.
Ready to get your resolution on? Order samples online now. Need some help? Simply call, chat or fill out our Design Assistance Form and one of our talented design consultants will get back to you shortly.
Shop the Story